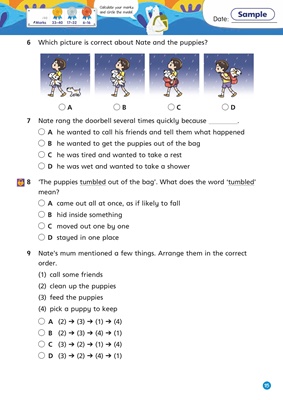 1515
Date:
15
Calculate your marks
and circle the medal.
33-40
Marks 17-32 6-16
/40
6 Which picture is correct about Nate and the puppies?
A B C D
7 Nate rang the doorbell several times quickly because .
A he wanted to call his friends and tell them what happened
B he wanted to get the puppies out of the bag
C he was tired and wanted to take a rest
D he was wet and wanted to take a shower
8 'The puppies tumbled out of the bag'. What does the word 'tumbled'
mean?
A came out all at once, as if likely to fall
B hid inside something
C moved out one by one
D stayed in one place
9 Nate's mum mentioned a few things. Arrange them in the correct
order.
(1) call some friends
(2) clean up the puppies
(3) feed the puppies
(4) pick a puppy to keep
A (2) ➔ (3) ➔ (1) ➔ (4)
B (2) ➔ (3) ➔ (4) ➔ (1)
C (3) ➔ (2) ➔ (1) ➔ (4)
D (3) ➔ (2) ➔ (4) ➔ (1)
Sample