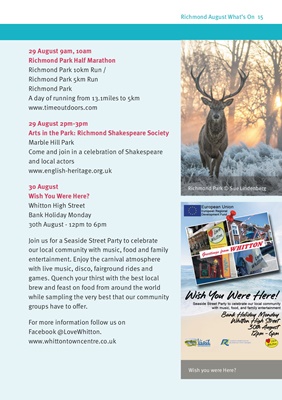 15
Richmond August What's On
29 August 9am, 10am
Richmond Park Half Marathon
Richmond Park 10km Run /
Richmond Park 5km Run
Richmond Park
A day of running from 13.1miles to 5km
29 August 2pm-3pm
Arts in the Park: Richmond Shakespeare Society
Marble Hill Park
Come and join in a celebration of Shakespeare
and local actors
30 August
Wish You Were Here?
Whitton High Street
Bank Holiday Monday
30th August - 12pm to 6pm
Join us for a Seaside Street Party to celebrate
our local community with music, food and family
entertainment. Enjoy the carnival atmosphere
with live music, disco, fairground rides and
games. Quench your thirst with the best local
brew and feast on food from around the world
while sampling the very best that our community
groups have to offer.
For more information follow us on
Facebook @LoveWhitton.
Richmond Park © Sue Lindenberg
Wish you were Here?