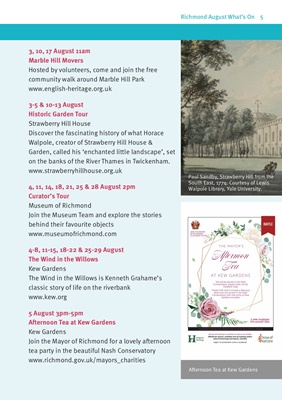 5
Richmond August What's On
3, 10, 17 August 11am
Marble Hill Movers
Hosted by volunteers, come and join the free
community walk around Marble Hill Park
3-5 & 10-13 August
Historic Garden Tour
Strawberry Hill House
Discover the fascinating history of what Horace
Walpole, creator of Strawberry Hill House &
Garden, called his 'enchanted little landscape', set
on the banks of the River Thames in Twickenham.
www.strawberryhillhouse.org.uk
4, 11, 14, 18, 21, 25 & 28 August 2pm
Curator's Tour
Museum of Richmond
Join the Museum Team and explore the stories
behind their favourite objects
4-8, 11-15, 18-22 & 25-29 August
The Wind in the Willows
Kew Gardens
The Wind in the Willows is Kenneth Grahame's
classic story of life on the riverbank
5 August 3pm-5pm
Afternoon Tea at Kew Gardens
Kew Gardens
Join the Mayor of Richmond for a lovely afternoon
tea party in the beautiful Nash Conservatory
www.richmond.gov.uk/mayors_charities
Paul Sandby, Strawberry Hill from the
South East, 1774. Courtesy of Lewis
Walpole Library, Yale University.
Afternoon Tea at Kew Gardens