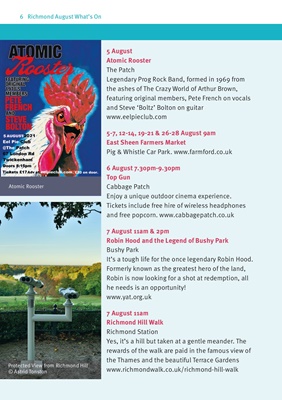 6 Richmond August What's On 5 August
Atomic Rooster
The Patch
Legendary Prog Rock Band, formed in 1969 from
the ashes of The Crazy World of Arthur Brown,
featuring original members, Pete French on vocals
and Steve 'Boltz' Bolton on guitar
5-7, 12-14, 19-21 & 26-28 August 9am
East Sheen Farmers Market
Pig & Whistle Car Park. www.farmford.co.uk
6 August 7.30pm-9.30pm
Top Gun
Cabbage Patch
Enjoy a unique outdoor cinema experience.
Tickets include free hire of wireless headphones
and free popcorn. www.cabbagepatch.co.uk
7 August 11am & 2pm
Robin Hood and the Legend of Bushy Park
Bushy Park
It's a tough life for the once legendary Robin Hood.
Formerly known as the greatest hero of the land,
Robin is now looking for a shot at redemption, all
he needs is an opportunity!
7 August 11am
Richmond Hill Walk
Richmond Station
Yes, it's a hill but taken at a gentle meander. The
rewards of the walk are paid in the famous view of
the Thames and the beautiful Terrace Gardens
www.richmondwalk.co.uk/richmond-hill-walk
Protected View from Richmond Hill
© Astrid Tonston
Atomic Rooster