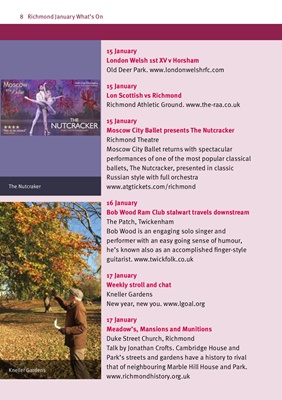 Richmond January What's On
8
15 January
London Welsh 1st XV v Horsham
Old Deer Park. www.londonwelshrfc.com
15 January
Lon Scottish vs Richmond
Richmond Athletic Ground. www.the-raa.co.uk
15 January
Moscow City Ballet presents The Nutcracker
Richmond Theatre
Moscow City Ballet returns with spectacular
performances of one of the most popular classical
ballets, The Nutcracker, presented in classic
Russian style with full orchestra
16 January
Bob Wood Ram Club stalwart travels downstream
The Patch, Twickenham
Bob Wood is an engaging solo singer and
performer with an easy going sense of humour,
he's known also as an accomplished finger-style
guitarist. www.twickfolk.co.uk
17 January
Weekly stroll and chat
Kneller Gardens
New year, new you. www.lgoal.org
17 January
Meadow's, Mansions and Munitions
Duke Street Church, Richmond
Talk by Jonathan Crofts. Cambridge House and
Park's streets and gardens have a history to rival
that of neighbouring Marble Hill House and Park.
The Nutcraker
Kneller Gardens