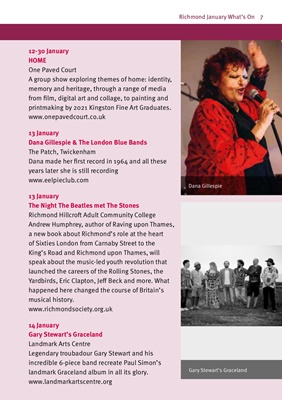 Richmond January What's On 7
12-30 January
HOME
One Paved Court
A group show exploring themes of home: identity,
memory and heritage, through a range of media
from film, digital art and collage, to painting and
printmaking by 2021 Kingston Fine Art Graduates.
13 January
Dana Gillespie & The London Blue Bands
The Patch, Twickenham
Dana made her first record in 1964 and all these
years later she is still recording
13 January
The Night The Beatles met The Stones
Richmond Hillcroft Adult Community College
Andrew Humphrey, author of Raving upon Thames,
a new book about Richmond's role at the heart
of Sixties London from Carnaby Street to the
King's Road and Richmond upon Thames, will
speak about the music-led youth revolution that
launched the careers of the Rolling Stones, the
Yardbirds, Eric Clapton, Jeff Beck and more. What
happened here changed the course of Britain's
musical history.
14 January
Gary Stewart's Graceland
Landmark Arts Centre
Legendary troubadour Gary Stewart and his
incredible 6-piece band recreate Paul Simon's
landmark Graceland album in all its glory.
Gary Stewart's Graceland
Dana Gillespie