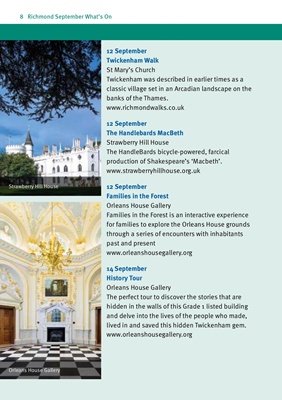 Richmond September What's On
8
12 September
Twickenham Walk
St Mary's Church
Twickenham was described in earlier times as a
classic village set in an Arcadian landscape on the
banks of the Thames.
12 September
The Handlebards MacBeth
Strawberry Hill House
The HandleBards bicycle-powered, farcical
production of Shakespeare's 'Macbeth'.
www.strawberryhillhouse.org.uk
12 September
Families in the Forest
Orleans House Gallery
Families in the Forest is an interactive experience
for families to explore the Orleans House grounds
through a series of encounters with inhabitants
past and present
14 September
History Tour
Orleans House Gallery
The perfect tour to discover the stories that are
hidden in the walls of this Grade 1 listed building
and delve into the lives of the people who made,
lived in and saved this hidden Twickenham gem.
Strawberry Hill House
Orleans House Gallery