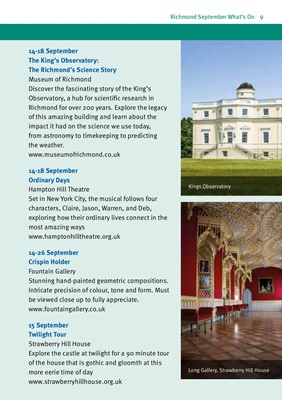 Richmond September What's On 9
14-18 September
The King's Observatory:
The Richmond's Science Story
Museum of Richmond
Discover the fascinating story of the King's
Observatory, a hub for scientific research in
Richmond for over 200 years. Explore the legacy
of this amazing building and learn about the
impact it had on the science we use today,
from astronomy to timekeeping to predicting
the weather.
14-18 September
Ordinary Days
Hampton Hill Theatre
Set in New York City, the musical follows four
characters, Claire, Jason, Warren, and Deb,
exploring how their ordinary lives connect in the
most amazing ways
14-26 September
Crispin Holder
Fountain Gallery
Stunning hand-painted geometric compositions.
Intricate precision of colour, tone and form. Must
be viewed close up to fully appreciate.
15 September
Twilight Tour
Strawberry Hill House
Explore the castle at twilight for a 90 minute tour
of the house that is gothic and gloomth at this
more eerie time of day
www.strawberryhillhouse.org.uk
Kings Observatory
Long Gallery, Strawberry Hill House