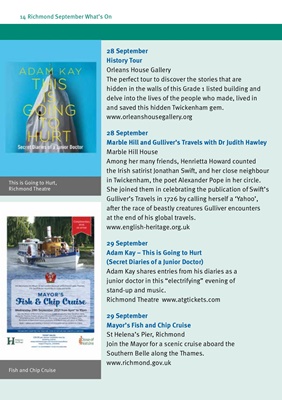 Richmond September What's On
14
28 September
History Tour
Orleans House Gallery
The perfect tour to discover the stories that are
hidden in the walls of this Grade 1 listed building and
delve into the lives of the people who made, lived in
and saved this hidden Twickenham gem.
28 September
Marble Hill and Gulliver's Travels with Dr Judith Hawley
Marble Hill House
Among her many friends, Henrietta Howard counted
the Irish satirist Jonathan Swift, and her close neighbour
in Twickenham, the poet Alexander Pope in her circle.
She joined them in celebrating the publication of Swift's
Gulliver's Travels in 1726 by calling herself a 'Yahoo',
after the race of beastly creatures Gulliver encounters
at the end of his global travels.
29 September
Adam Kay - This is Going to Hurt
(Secret Diaries of a Junior Doctor)
Adam Kay shares entries from his diaries as a
junior doctor in this "electrifying" evening of
stand-up and music.
Richmond Theatre www.atgtickets.com
29 September
Mayor's Fish and Chip Cruise
St Helena's Pier, Richmond
Join the Mayor for a scenic cruise aboard the
Southern Belle along the Thames.
Fish and Chip Cruise
This is Going to Hurt,
Richmond Theatre