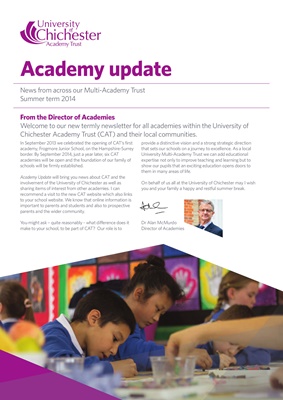 Academy update
News from across our Multi-Academy Trust
Summer term 2014
In September 2013 we celebrated the opening of CAT's first
academy, Frogmore Junior School, on the Hampshire-Surrey
border. By September 2014, just a year later, six CAT
academies will be open and the foundation of our family of
schools will be firmly established.
Academy Update will bring you news about CAT and the
involvement of the University of Chichester as well as
sharing items of interest from other academies. I can
recommend a visit to the new CAT website which also links
to your school website. We know that online information is
important to parents and students and also to prospective
parents and the wider community.
You might ask - quite reasonably - what difference does it
make to your school, to be part of CAT? Our role is to
provide a distinctive vision and a strong strategic direction
that sets our schools on a journey to excellence. As a local
University Multi-Academy Trust we can add educational
expertise not only to improve teaching and learning but to
show our pupils that an exciting education opens doors to
them in many areas of life.
On behalf of us all at the University of Chichester may I wish
you and your family a happy and restful summer break.
Dr Alan McMurdo
Director of Academies
From the Director of Academies
Welcome to our new termly newsletter for all academies within the University of
Chichester Academy Trust (CAT) and their local communities.