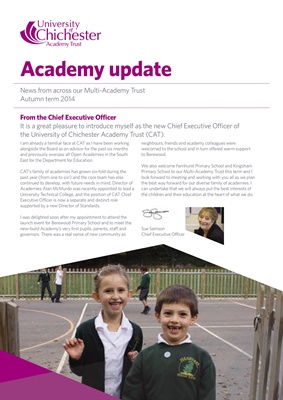 Academy update
News from across our Multi-Academy Trust
Autumn term 2014
I am already a familiar face at CAT as I have been working
alongside the Board as an advisor for the past six months
and previously oversaw all Open Academies in the South
East for the Department for Education.
CAT's family of academies has grown six-fold during the
past year (from one to six!) and the core team has also
continued to develop, with future needs in mind. Director of
Academies Alan McMurdo was recently appointed to lead a
University Technical College, and the position of CAT Chief
Executive Officer is now a separate and distinct role
supported by a new Director of Standards.
I was delighted soon after my appointment to attend the
launch event for Berewood Primary School and to meet the
new-build Academy's very first pupils, parents, staff and
governors. There was a real sense of new community as
neighbours, friends and academy colleagues were
welcomed to the school and in turn offered warm support
to Berewood.
We also welcome Fernhurst Primary School and Kingsham
Primary School to our Multi-Academy Trust this term and I
look forward to meeting and working with you all as we plan
the best way forward for our diverse family of academies. I
can undertake that we will always put the best interests of
the children and their education at the heart of what we do.
Sue Samson
Chief Executive Officer
From the Chief Executive Officer
It is a great pleasure to introduce myself as the new Chief Executive Officer of
the University of Chichester Academy Trust (CAT).