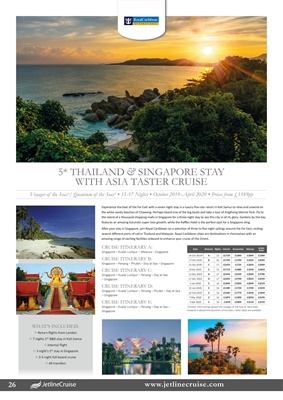 26
5* THAILAND & SINGAPORE STAY
WITH ASIA TASTER CRUISE
Voyager of the Seas®/ Quantum of the Seas® • 15-17 Nights • October 2019-April 2020 • Prices from £1589pp
WHAT'S INCLUDED:
✥ Return flights from London
✥ 7 nights 5* B&B stay in Koh Samui
✥ Internal flight
✥ 3 night's 5* stay in Singapore
✥ 3-5 night full-board cruise
✥ All transfers
Experience the best of the Far East with a seven night stay in a luxury five-star resort in Koh Samui to relax and unwind on
the white sandy beaches of Chaweng. Perhaps board one of the big boats and take a tour of Angthong Marine Park. Fly to
the island of a thousand shopping malls in Singapore for a three night stay to see this city in all its glory. Gardens by the bay
features an amazing futuristic super tree growth, while the Raffles hotel is the perfect spot for a Singapore sling.
After your stay in Singapore, join Royal Caribbean on a selection of three to five night sailings around the Far East, visiting
several different ports of call in Thailand and Malaysia. Royal Caribbean ships are destinations in themselves with an
amazing range of exciting facilities onboard to enhance your cruise of the Orient.
CRUISE ITINERARY A:
Singapore - Kualar Lumpur - Malacca - Singapore
CRUISE ITINERARY B:
Singapore - Penang - Phuket - Day at Sea - Singapore
CRUISE ITINERARY C:
Singapore - Kualar Lumpur - Penang - Day at Sea
- Singapore
CRUISE ITINERARY D:
Singapore - Kualar Lumpur - Penang - Phuket - Day at Sea
- Singapore
CRUISE ITINERARY E:
Singapore - Kualar Lumpur - Penang - Day at Sea -
Singapore
Date Itinerary Nights Interior Oceanview Balcony Junior
Suite
14 Oct 2019* A 15 £1739 £1849 £1899 £1999
17 Oct 2019 B 16 £1799 £1799 £1929 £2039
31 Oct 2019 C 17 £1659 £1739 £1859 £2049
8 Dec 2019 E 15 £1759 £1889 £1939 £2059
12 Dec 2019 D 17 £2349 £2529 £2589 £2799
17 Dec 2019 D 17 £2649 £2799 £2859 £3339
5 Jan 2020 E 16 £1899 £2039 £2099 £2229
31 Jan 2020 E 16 £1589 £1739 £1789 £1929
22 Feb 2020 E 16 £1669 £1779 £1839 £1969
7 Mar 2020 E 16 £1879 £1999 £2059 £2199
2 Apr 2020 E 16 £1939 £2069 £2129 £2259
October 2019 sailings aboard the Voyager of the Seas & December
onwards is aboard the Quantum of the Seas / other dates are available