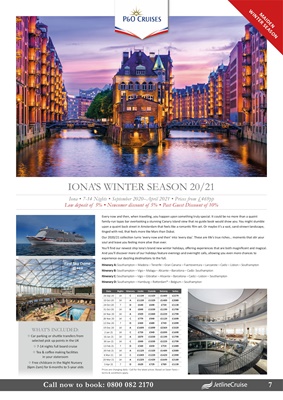 WHY CRUISE WITH
CUNARD?
✥ The most iconic cruise ships afloat
✥ The finest traditions at sea
✥ Dress for dinner
✥ Lots of glamour, sophistication and elegance
✥ Legendary White Star service
✥ Themed balls in the Queens Room
✥ Captain's cocktail parties
✥ Superb dining in the Britannia restaurant
✥ Britannia Club anytime dining option
✥ Regional themed "Pop Up" Restaurants in
the buffet dining areas
✥ White gloved afternoon tea in the
Queens Room
✥ FREE 24 hour room service
✥ FREE Guest Launderettes
✥ Eight bells at 12 noon on sea days
✥ Art galleries at sea with Clarendon fine
art of Mayfair
✥ Cunard insights programme / RADA /
guest speakers
✥ Unique camaraderie among passengers
✥ FREE childcare in the Kids club for 2 to
5 year olds between 1800 & 0200
✥ Weddings at sea
✥ Morning fencing lessons
✥ Tea & coffee making facilities in your
stateroom
Enjoy the finest traditions at sea while sampling the delights of a Mediterranean cruise or ocean voyage be it culture,
history, scenery, mouth watering cuisine, beaches sunshine and relaxation. The classic colours of the ship: red stripe at
the waterline, black hull and white superstructure with a red funnel cuts a very imposing presence in any port of call.
This together with the distinguished Cunard brand and sailing on a Queen seems to attract attention away from all other
ships in any given port. Book now to enjoy the recent enhancements made on-board Cunard Queen Victoria, sample the
ever popular Cunard Queen Elizabeth or sail on the flagship of the fleet - Cunard Queen Mary 2.
CUNARD SOUTHAMPTON VOYAGES
Queen Victoria, Queen Elizabeth & Queen Mary 2 • 2-28 Nights • April 2019-January 2020 • Prices from £299pp
5% Deposit * • Double On board credit* • Free Car Parking in Southampton**
Dates Ship Name Nights Itinerary Highlights Interior Balcony
28 Apr 19 Q.Victoria 14
Hamburg - Copenhagen - Stockholm - Estonia - St Petersburg#
(Russia) - Kiel - Skagen
£1189 £1999*
4 Jun 19 Q.Victoria 12
Greenock - Oban - Isle of Skye - Kirkwall - Dublin Liverpool -
Cork - Guernsey
£1149 £1749
30 Jun 19 Q.Victoria 14
Olden - Innviksfjorden - Nordfjord - Alesund - Akureyri -
Reykjavik# - Stornoway
£1199 £2049
11 Aug 19 Q.Victoria 12
Newcastle - Edinburgh - Inverness - Glasgow - Belfast - Liverpool
- Guernsey
£1159 £1899*
25 Aug 19 Q.Elizabeth 12 Norwegian Fjords £1199 £2199
25 Aug 19 Q .Mary 2 28
New York - Bar Harbour - Newfoundland - Quebec#- Saguenay-
Sydney (Nova Scotia) - Halifax - New York
£2799 £3899
6 Sep 19 Q.Elizabeth 14 Stornoway - Akureyri - Isafjordur - Reykjavik# - Greenock - Dublin £1199 £1899
6 Sep 19 Q.Victoria 14 Vigo - Majorca - La Spezia - Cannes - Barcelona - Gibraltar £1679 £2799
20 Sep 19 Q.Victoria 19 Cartagena - Corfu - Dubrovnik - Hvar - Venice - Sardinia - Gibraltar £2399* £3399
20 Oct 19 Q.Elizabeth 12 Madeira - La Palma - Tenerife - Lanzarote - La Coruna £999 £1499
21 Oct 19 Q .Victoria 14 Seville - Barcelona - Livorno - Rome - Cartagena - Gibraltar £1299* £1899*
1 Nov 19 Q.Elizabeth 2 Taster cruise to Belgium £299 £299
4 Nov 19 Q.Victoria 12 Madeira - La Palma - Gran Canaria - Lanzarote - Lisbon £979 £1419
16 Nov 19 Q.Victoria 12 Norway, North Cape & Northern Lights £1329* £1789*
19 Nov 19 Q.Mary 2 26
UK - New York - Tortola - Dominica - Barbados - St Lucia - St Kitts
- New York - UK
£2399* £3499*
28 Nov 19 Q.Victoria 10 La Coruna - Cadiz - Malaga - Gibraltar - Lisbon £849 £1199*
8 Dec 19 Q.Victoria 12 Madeira - La Palma - Tenerife - Lanzarote - Lisbon £929 £1299
15 Dec 19 Q.Mary 2 26
New York - St Thomas - Dominica - Barbados - St Kitts -
St Maarten - New York
£3499* £4499*
6 Jan 20 Q.Victoria 4 Taster cruise to Hamburg £329 £349
#Overnight in Port. *On selected departures and stateroom grades. **Choose free car parking and get single on board credit on selected departures &
stateroom grades
7
Call now to book: 0800 082 2170 or visit
www.jetlinecruise.com/cruise-packages/cunard-no-flying-voyages-from-southampto-602