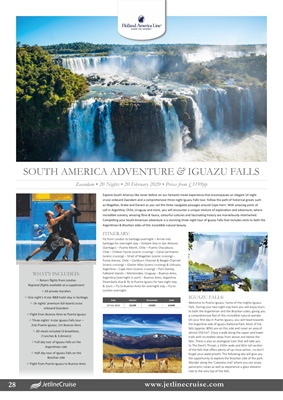 28
ITINERARY:
Fly from London to Santiago overnight - Arrive into
Santiago for overnight stay - Embark ship in San Antonio
(Santiago) - Puerto Montt, Chile - Puerto Chacabuco,
Chile - Chilean Fjords (scenic cruising) - Canal Sarmiento
(scenic cruising) - Strait of Magellan (scenic cruising) -
Punta Arenas, Chile - Cockburn Channel & Beagle Channel
(scenic cruising) - Glacier Alley (scenic cruising) & Ushuaia,
Argentina - Cape Horn (scenic cruising) - Port Stanley,
Falkland Islands - Montevideo, Uruguay - Buenos Aires,
Argentina (overnight in port) - Buenos Aires, Argentina.
Disembark ship & fly to Puerto Iguazu for two night stay
& tours - Fly to Buenos Aires for overnight stay - Fly to
London overnight.
Date Interior Oceanview Suite
20 Feb 2020 £3199 £3599 £4499
SOUTH AMERICA ADVENTURE & IGUAZU FALLS
Zaandam • 20 Nights • 20 February 2020 • Prices from £3199pp
WHAT'S INCLUDED:
✥ Return flights from London
Regional flights available at a supplement
✥ All private transfers
✥ One night's 4-star B&B hotel stay in Santiago
✥ 14 nights' premium full-board cruise
onboard Zaandam
✥ Flight from Buenos Aires to Puerto Iguazu
✥ Three nights' 4-star Iguazu Falls tour -
2nts Puerto Iguazu; 1nt Buenos Aires
✥ All meals included (3 breakfasts,
2 lunches & 3 dinners)
✥ Full day tour of Iguazu Falls on the
Argentinian side
✥ Half day tour of Iguazu Falls on the
Brazilian side
✥ Flight from Puerto Iguazu to Buenos Aires
Explore South America like never before on our fantastic travel experience that encompasses an elegant 14 night
cruise onboard Zaandam and a comprehensive three night Iguazu Falls tour. Follow the path of historical greats such
as Magellan, Drake and Darwin as you sail the three navigable passages around Cape Horn. With amazing ports of
call in Argentina, Chile, Uruguay and more, you will encounter a unique mixture of exploration and adventure; where
incredible scenery, amazing flora & fauna, colourful cultures and fascinating history are marvellously intertwined.
Completing your South American adventure is a stunning three night tour of Iguazu Falls that includes visits to both the
Argentinian & Brazilian sides of this incredible natural beauty. IGUAZU FALLS:
Welcome to Puerto Iguazu, home of the mighty Iguazu
Falls. During your two night stay here you will enjoy tours
to both the Argentinian and the Brazilian sides; giving you
a comprehensive feel of this incredible natural wonder.
On your first day in Puerto Iguazu, you will head towards
the Argentine side of Iguazu National Park. Most of the
falls (approx. 80%) are on this side and cover an area of
almost 550 km². Enjoy a walk along the upper and lower
trails with incredible views from above and below the
falls. There is also an ecological train that will take you
to The Devil's Throat; a 150m wide and 82m tall section
of the falls that offers plenty of up-close action…so don't
forget your waterproofs! The following day will give you
the opportunity to explore the Brazilian side of the park.
Wander along the 'Cataratas trail' where you can enjoy
panoramic views as well as experience a glass elevator
ride to the very top of the falls.