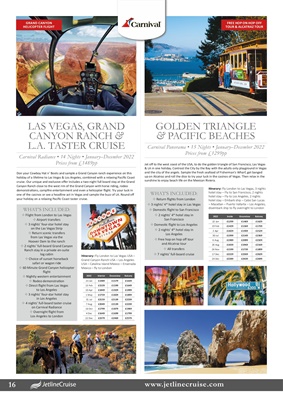 16
Itinerary: Fly London to Las Vegas, 3 nights
hotel stay - Fly to San Francisco, 2 nights
hotel stay - Fly to Los Angeles, 2 nights
hotel stay - Embark ship - Cabo San Lucas
- Mazatlan - Puerto Vallarta - Los Angeles,
disembark ship to fly overnight to London
GOLDEN TRIANGLE
& PACIFIC BEACHES
Carnival Panorama • 15 Nights • January-December 2022
Prices from £1299pp
Jet off to the west coast of the USA, to do the golden triangle of San Francisco, Las Vegas
& LA in one holiday. Contrast the City by the Bay with the adults only playground in Vegas
and the city of the angels. Sample the fresh seafood of Fisherman's Wharf, get banged
up on Alcatraz and roll the dice to try your luck in the casinos of Vegas. Then relax in the
sunshine to enjoy beach life on the Mexican Riviera.
Itinerary: Fly London to Las Vegas USA -
Grand Canyon Ranch USA - Los Angeles
USA - Catalina Island Mexico - Ensenada
Mexico - fly to London
LAS VEGAS, GRAND
CANYON RANCH &
L.A. TASTER CRUISE
Carnival Radiance • 14 Nights • January-December 2022
Prices from £1489pp
Don your Cowboy Hat n' Boots and sample a Grand Canyon ranch experience on this
holiday of a lifetime to Las Vegas & Los Angeles, combined with a relaxing Pacific Coast
cruise. Our unique and exclusive offer includes a two-night full board stay at the Grand
Canyon Ranch close to the west rim of the Grand Canyon with horse riding, rodeo
demonstrations, campfire entertainment and even a helicopter flight. Try your luck in
one of the casinos or see a headline act in Vegas and sample the buzz of LA. Round off
your holiday on a relaxing Pacific Coast taster cruise.
2022 Interior Oceanview Balcony
23 Jan £1489 £1579 £1639
13 Feb £1529 £1599 £1649
10 Apr £1849 £1929 £1999
1 May £1759 £1829 £1899
31 Jul £2159 £2139 £2239
7 Aug £2049 £2139 £2239
16 Oct £1799 £1879 £1969
4 Dec £1649 £1699 £1799
22 Dec £2379 £2469 £2579
WHAT'S INCLUDED:
✥ Flight from London to Las Vegas
✥ Airport transfers
✥ 3 nights' four-star hotel stay
on the Las Vegas Strip
✥ Return scenic transfers
from Las Vegas via the
Hoover Dam to the ranch
✥ 2 nights' full-board Grand Canyon
Ranch stay in a private en-suite
log cabin
✥ Choice of sunset horseback
safari or wagon ride
✥ 60 Minute Grand Canyon helicopter
flight
✥ Nightly western entertainment
✥ Rodeo demonstration
✥ Direct flight from Las Vegas
to Los Angeles
✥ 3 nights' four-star hotel stay
in Los Angeles
✥ 4 nights' full-board taster cruise
on Carnival Radiance
✥ Overnight flight from
Los Angeles to London
WHAT'S INCLUDED:
✥ Return flights from London
✥ 3 nights' 4* hotel stay in Las Vegas
✥ Domestic flight to San Francisco
✥ 2 nights' 4* hotel stay in
San Francisco
✥ Domestic flight to Los Angeles
✥ 2 nights' 4* hotel stay in
Los Angeles
✥ Free hop on hop off tour
and Alcatraz tour
✥ All transfers
✥ 7 nights' full-board cruise
GRAND CANYON
HELICOPTER FLIGHT
2022 Inside Oceanview Balcony
22 Jan £1299 £1469 £1629
19 Feb £1429 £1569 £1739
2 Apr £1829 £1939 £2129
30 Jul £1999 £2149 £2369
6 Aug £1989 £2099 £2329
20 Aug £1839 £1969 £2169
26 Nov £1599 £1739 £1899
17 Dec £2229 £2369 £2629
24 Dec £2289 £2439 £2699
FREE HOP ON HOP OFF
TOUR & ALCATRAZ TOUR