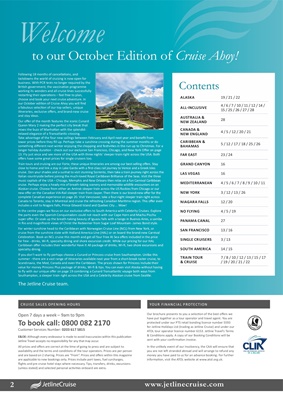 2 Open 7 days a week - 9am to 9pm
To book call: 0800 082 2170
Customer Services Number: 0203 617 5815
E&OE: Although every endeavour is made to avoid inaccuracies within this publication
Jetline Travel accepts no responsibility for any that may occur.
All prices and offers are correct at the time of going to press and are subject to
availability and the terms and conditions of the tour operators. Prices are per person
and are based on 2 sharing. Prices are "From". Prices and offers within this magazine
are applicable to new bookings only. Prices include port taxes, fuel surcharges,
flights and pre cruise hotel stays where necessary. Tips, transfers, drinks, excursions
(unless stated) and selected personal activities onboard are extra.
CRUISE SALES OPENING HOURS
Our brochure presents to you a selection of the best offers we
have put together as a tour operator and travel agent. You are
protected under our PTS retail bonding licence number 5593
for Jetline Holidays Ltd (trading as Jetline Cruise) and under our
ATOL tour operator licence number 6153. Jetline Travel's Terms
& Conditions apply. A copy of our Booking Conditions will be
sent with your confirmation invoice.
In the unlikely event of our insolvency, the CAA will ensure that
you are not left stranded abroad and will arrange to refund any
money you have paid to us for an advance booking. For further
information, visit the ATOL website at www.atol.org.uk.
YOUR FINANCIAL PROTECTION
Following 18 months of cancellations, and
lockdowns the world of cruising is now open for
business. With PCR tests no longer required by the
British government, the vaccination programme
working its wonders and all cruise lines successfully
restarting their operations - feel free to plan,
choose and book your next cruise adventure. In
our October edition of Cruise Ahoy you will find
a fabulous selection of our top sellers, unique
itineraries, exclusive offers, and brand-new cruise
and stay ideas.
Our offer of the month features the iconic Cunard
Queen Mary 2 making the perfect city break that
mixes the buzz of Manhattan with the splendidrelaxed
elegance of a Transatlantic crossing.
Take advantage of the four new sailings between February and April next year and benefit from
lower prices before they fill up. Perhaps take a sunshine crossing during the summer months or do
something different next winter enjoying the shopping and festivities in the run up to Christmas. For a
longer holiday duration - check out our exclusive San Francisco, Chicago, and New York Offer on page
13. Fly just once and see more of the USA with three nights' sleeper train right across the USA. Both
offers have some great prices for single cruisers too.
Train tours and cruising are our Forte, these unique itineraries are among our best-selling offers. Stay
close to home and link a stay in Lake Garda with a first-class rail journey to Venice and a Greek Isles
cruise. Don your shades and a sunhat to visit stunning Sorrento, then take a train journey right across the
Italian countryside before joining the much-loved Royal Caribbean Brilliance of the Seas. Visit the three
music capitals of the USA - Chicago, Memphis and New Orleans then relax on a fun Carnival Caribbean
cruise. Perhaps enjoy a heady mix of breath-taking scenery and memorable wildlife encounters on an
Alaskan cruise. Choose from either an Amtrak sleeper train across the US Rockies from Chicago or our
new offer on the Canadian VIA-Rail sleeper train from Jasper. Then there is our brand-new offer for the
complete Canadian experience on page 20. Visit Vancouver, take a four-night sleeper train right across
Canada to Toronto, stay in Montreal and cruise the refreshing Canadian Maritime region. This offer even
includes a visit to Niagara Falls, Prince Edward Island and Quebec City … Wow!
In the centre pages we focus on our exclusive offers to South America with Celebrity Cruises. Explore
the parts even the Spanish Conquistadors could not reach with our Cape Horn and Machu Picchu
super offer. Or soak up the breath-taking beauty of Iguazu falls with a tango in Buenos Aires, a samba
in Rio and magnificent views of Christ the Redeemer from Sugar Loaf Mountain- James Bond style.
For winter sunshine head to the Caribbean with Norwegian Cruise Line (NCL) from New York, or
cruise from the sunshine state with Holland America Line (HAL) or on board the brand-new Carnival
Celebration. Book an NCL cruise this month and get all four Free At Sea offers included in the price
for free - drinks, Wi-fi, specialty dining and shore excursion credit. While our pricing for our HAL
Caribbean offer includes their wonderful Have It All package of drinks, Wi-fi, two shore excursions and
specialty dining.
If you don't want to fly perhaps choose a Cunard or Princess cruise from Southampton. Unlike this
summer - there are a vast range of itineraries available next year from a short-break taster cruise, to
Scandinavia, the Med, Canada and even the Caribbean. The prices shown for Princess include their
value for money Princess Plus package of drinks, Wi-fi & tips. You can even visit Alaska without having
to fly with our unique offer on page 19 combining a Cunard Transatlantic voyage both ways from
Southampton, a sleeper train right across the USA and a Celebrity Alaskan cruise from Seattle.
The Jetline Cruise team.
to our October Edition of Cruise Ahoy!
Welcome
ALASKA 19 / 21 / 22
ALL-INCLUSIVE
4 / 6 / 7 / 10 / 11 / 12 / 14 /
15 / 25 / 26 / 27 / 28
AUSTRALIA &
NEW ZEALAND
28
CANADA &
NEW ENGLAND
4 / 5 / 12 / 20 / 21
CARIBBEAN &
BAHAMAS
5 / 12 / 17 / 18 / 25 / 26
FAR EAST 23 / 24
GRAND CANYON 16
LAS VEGAS 16
MEDITERRANEAN 4 / 5 / 6 / 7 / 8 / 9 / 10 / 11
NEW YORK 3 / 12 / 13 / 26
NIAGARA FALLS 12 / 20
NO FLYING 4 / 5 / 19
PANAMA CANAL 27
SAN FRANCISCO 13 / 16
SINGLE CRUISERS 3 / 13
SOUTH AMERICA 14 / 15
TRAIN TOUR
& CRUISE
7 / 8 / 10 / 12 / 13 / 15 / 17
/ 19 / 20 / 21 / 22
Contents