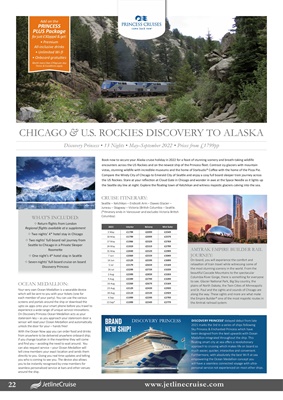 22
CRUISE ITINERARY:
Seattle - Ketchikan - Endicott Arm - Dawes Glacier -
Juneau - Skagway - Victoria (British Columbia - Seattle.
(*Itinerary ends in Vancouver and excludes Victoria British
Columbia)
CHICAGO & U.S. ROCKIES DISCOVERY TO ALASKA
Discovery Princess • 13 Nights • May-September 2022 • Prices from £1799pp
WHAT'S INCLUDED:
✥ Return flights from London
Regional flights available at a supplement
✥ Two nights' 4* hotel stay in Chicago
✥ Two nights' full-board rail journey from
Seattle to Chicago in a Private Sleeper
Roomette
✥ One night's 4* hotel stay in Seattle
✥ Seven nights' full-board cruise on board
Discovery Princess
Book now to secure your Alaska cruise holiday in 2022 for a feast of stunning scenery and breath-taking wildlife
encounters across the US Rockies and on the newest ship of the Princess fleet. Contrast icy glaciers with mountain
vistas, stunning wildlife with incredible museums and the home of Starbucks® Coffee with the home of the Pizza Pie.
Compare the Windy City of Chicago to Emerald City of Seattle and enjoy a cosy full board sleeper train journey across
the US Rockies. Stare at your reflection at Cloud Gate in Chicago and wonder in awe at the Space Needle as it lights up
the Seattle sky line at night. Explore the floating town of Ketchikan and witness majestic glaciers calving into the sea.
2022 Interior Balcony Mini Suite
3 May £1799 £2099 £2549
10 May £1799 £2099 £2579
17 May £1966 £2329 £2769
24 May £1919 £2319 £2799
31 May £2049 £2529 £2999
7 Jun £2069 £2559 £3049
14 Jun £2129 £2599 £3099
5 Jul £2179 £2659 £3169
26 Jul £2299 £2729 £3239
2 Aug £2399 £2839 £3359
9 Aug £2399 £2799 £3299
16 Aug £2269 £2679 £3169
23 Aug £2129 £2439 £2939
30 Aug £2119 £2539 £2929
6 Sep £1999 £2299 £2799
13 Sep* £1999 £2349 £2779
AMTRAK EMPIRE BUILDER RAIL
JOURNEY:
On-board, you will experience the comfort and
relaxation of train travel while witnessing some of
the most stunning scenery in the world. From the
beautiful Cascade Mountains to the spectacular
Columbia River Gorge, there is something for everyone
to see. Glacier National Park, Big Sky country, the
plains of North Dakota, the Twin Cities of Minneapolis
and St. Paul and the sights and sounds of Chicago are
along the way. These sights and more are what make
the Empire Builder® one of the most majestic routes in
the Amtrak railroad system.
Add on the
PRINCESS
PLUS Package
for just £30pppd & get:
• Premium
All-inclusive drinks
• Unlimited Wi-fi
• Onboard gratuities
Worth more than £70pp per day
Terms & Conditions apply
DISCOVERY PRINCESS' delayed debut from late
2021 marks the 3rd in a series of ships following
Sky Princess & Enchanted Princess which have
been designed from the keel upwards with Ocean
Medallion integrated throughout the ship. This
floating smart city at sea offers a revolutionary
approach to cruising which makes life on board so
much easier, quicker, interactive and convenient.
Furthermore, with absolutely the best Wi-fi at sea
empowering the Ocean Medallion concept you
will have a seamless connected voyage with ultrapersonal
service not experienced on most other ships.
BRAND
NEW SHIP!
OCEAN MEDALLION:
Your very own Ocean Medallion is a wearable device
which will be sent to you with your tickets (one for
each member of your party). You can use the various
screens and portals around the ship or download the
upto six apps onto your smart phone before you travel to
experience a wide range of unique service innovations.
On Discovery Princess Ocean Medallion acts as your
stateroom key - as you approach your stateroom door a
sensor will read your Ocean Medallion and automatically
unlock the door for your - hands free!
With the Ocean Now app you can order food and drinks
from anywhere to be delivered anywhere onboard ship;
if you change location in the meantime they will come
and find you - avoiding the need to wait around. You
can also request service - your Ocean Medallion will
tell crew members your exact location and sends them
directly to you. Giving you real time updates and telling
you who is coming to see you. The device also allows
you to be instantly recognised by crew members for
seamless personalised service at bars and other venues
around the ship.
DISCOVERY PRINCESS