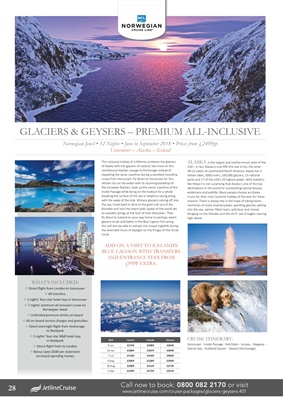 28
ALASKA is the largest and northernmost state of the
USA - in fact Alaska is one fifth the size of ALL the other
48 US states on continental North America. Alaska has 3
million lakes, 3000 rivers, 100,000 glaciers, 15 national
parks and 17 of the USA's 20 highest peaks. With statistics
like these it is not surprising that Alaska is one of the top
destinations in the world for outstanding natural beauty,
wilderness and wildlife. Many people choose an Alaska
cruise for their main Summer holiday of the year for these
reasons. There is always the in the hope of taking home
memories of snow covered peaks, sparkling glaciers spilling
into the sea, salmon filled rivers, wild bear and moose
foraging on the hillsides and the shrill call of eagles soaring
high above.
CRUISE ITINERARY:
Vancouver - Inside Passage - Ketchikan - Juneau - Skagway -
Glacier bay - Hubbard Glacier - Seward (Anchorage).
This inclusive holiday of a lifetime combines the glaciers
of Alaska with the geysers of Iceland. See more on this
northbound Alaskan voyage to Anchorage instead of
repeating the same coastline during a standard roundtrip
cruise from Vancouver. Fly direct to Vancouver for this
vibrant city on the water with its stunning backdrop of
the Canadian Rockies. Soak up the scenic coastline of the
Inside Passage while being on the lookout for a whale
breaking the surface of the sea or dolphins racing along
with the wake of the ship. Witness glaciers calving off into
the sea, travel back in time to the gold rush era of the
Klondike and visit the totem pole capital of the world set
on wooden pilings at the foot of Deer Mountain. Then
fly direct to Iceland on your way home to perhaps watch
geysers erupt and bathe in the Blue Lagoon hot spring.
You will also be able to sample the unique nightlife during
the extended hours of daylight on the fringes of the Arctic
Circle.
ADD ON A VISIT TO ICELAND'S
BLUE LAGOON WITH TRANSFERS
AND ENTRANCE FEES FROM
£99PP EXTRA.
2018 Interior Outside Balcony
9 Jun £2739 £2889 £3659
23 Jun £2869 £3079 £3699
7 Jul £3189 £3449 £4069
4 Aug £3069 £3289 £3949
18 Aug £2889 £3149 £3729
1 Sep £2499 £2729 £3319
GLACIERS & GEYSERS - PREMIUM ALL-INCLUSIVE
Norwegian Jewel • 12 Nights • June to September 2018 • Prices from £2499pp
Vancouver - Alaska - Iceland
WHAT'S INCLUDED:
✥ Direct flight from London to Vancouver
✥ All transfers
✥ 2 nights' four-star hotel stay in Vancouver
✥ 7 nights' premium all inclusive cruise on
Norwegian Jewel
✥ Unlimited premium drinks on-board
✥ All on-board service charges and gratuities
✥ Direct overnight flight from Anchorage
to Reykjavik
✥ 2 nights' four-star B&B hotel stay
in Reykjavik
✥ Direct flight from to London
✥ Bonus Upto $500 per stateroom
on-board spending money
Call now to book: 0800 082 2170 or visit