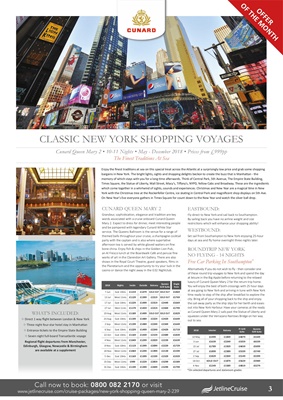 CUNARD QUEEN MARY 2
Grandeur, sophistication, elegance and tradition are key
words associated with a cruise onboard Cunard Queen
Mary 2. Expect to dress for dinner, meet interesting people
and be pampered with legendary Cunard White Star
service. The Queens Ballroom is the venue for a range of
themed balls throughout your cruise, a champagne cocktail
party with the captain and is also where superlative
afternoon tea is served by white gloved waiters on fine
bone china. Enjoy fish & chips in the Golden Lion Pub,
an Al Fresco lunch at the Boardwalk Café and peruse fine
works of art in the Clarendon Art Gallery. There are also
shows in the Royal Court Theatre, guest speakers, films in
the Planetarium and the opportunity to try your luck in the
casino or dance the night away in the G32 Nightclub.
WHAT'S INCLUDED:
✥ Direct 1 way flight between London & New York
✥ Three night four-star hotel stay in Manhattan
✥ Entrance tickets to the Empire State Building
✥ Seven night full-board Transatlantic voyage
Regional flight departures from Manchester,
Edinburgh, Glasgow, Newcastle & Birmingham
are available at a supplement
Enjoy the finest traditions at sea on this special treat across the Atlantic at a surprisingly low price and grab some shopping
bargains in New York. The bright lights, sights and shopping delights beckon to create the buzz that is Manhattan - the
memory of which stays with you for a long time afterwards. Think of Central Park, 5th Avenue, The Empire State Building,
Times Square, the Statue of Liberty, Wall Street, Macy's, Tiffany's, NYPD, Yellow Cabs and Broadway. These are the ingredients
which come together in a whirlwind of sights, sounds and experiences. Christmas and New Year are a magical time in New
York with the Christmas tree at the Rockerfeller Centre, ice skating in Central Park and magnificent shop displays on 5th Ave.
On New Year's Eve everyone gathers in Times Square for count down to the New Year and watch the silver ball drop.
CLASSIC NEW YORK SHOPPING VOYAGES
Cunard Queen Mary 2 • 10-11 Nights • May - December 2018 • Prices from £999pp
The Finest Traditions At Sea
ROUNDTRIP NEW YORK
NO FLYING - 14 NIGHTS
Free Car Parking In Southampton*
Alternatively if you do not wish to fly - then consider one
of these round trip voyages to New York and spend the day
at leisure in the Big Apple before returning to the relaxed
luxury of Cunard Queen Mary 2 for the return trip home.
You will enjoy the best of both crossings with 25 hour days
at sea going to New York and arriving in tune with New York
time ready to step of the ship after breakfast to explore the
city. Bring all of your shopping back to the ship and enjoy
the sail-away party as the ship slips for her berth and eases
out into New York Harbour. Have your cameras at the ready
as Cunard Queen Mary 2 sails past the Statue of Liberty and
squeezes under the Verrazano Narrows Bridge on her way
out to sea.
2018 Nights Inside Outside Balcony
Queens
Grill Suite
Single
from
7 Jun East 10nts £1219 £1479 SOLD OUT SOLD OUT £1869
13 Jul West 11nts £1129 £1399 £2219 SOLD OUT £1769
17 Jul East 10nts £1229 £1499 £2319 £2449 £1669
27 Jul West 11nts £1179 £1459 £2219 £2469 £1799
19 Aug West 11nts £1189 £1499 SOLD OUT SOLD OUT £1829
23 Aug East 10nts £1199 £1489 £2229 £2429 £1649
2 Sep West 11nts £1199 £1489 £2249 £2369 £1649
6 Sep East 10nts £1229 £1499 £2249 £2429 £1719
22 Oct East 10nts £1169 £1439 £2159 £2489 £1839
4 Nov West 11nts £1049 £1299 £2029 £2239 £1639
8 Nov East 10nts £1119 £1399 £2099 £2229 £1729
18 Nov West 11nts £1069 £1299 £1999 £2139 £1599
5 Dec East 10nts £1169 £1399 £2199 £2329 £1929
15 Dec West 11nts £999 £1229 £2859 £3299 £1589
31 Dec East 10nts £1199 £1399 £2699 £3299 £1799
EASTBOUND:
Fly direct to New York and sail back to Southampton.
By sailing back you have no airline weight and size
restrictions which will enhance your shopping ability!
WESTBOUND:
Set sail from Southampton to New York enjoying 25-hour
days at sea and fly home overnight three nights later.
2018 Interior Balcony
Pr Grill
Suite
Queens
Grill Suite
10 May £1499 £1849 £4879 £5349
3 Jun £1639 £2249 £5359 £6339
13 Jul £1789 £1929 £4659 £5099
27 Jul £1899 £2389 £5339 £5749
2 Sep £1829 £2269 £5149 £5399
18 Oct SOLD OUT £1879 £5629 £5989
4 Nov £1249 £1589 £4819 £5279
*On selected departures and stateroom grades
3
OFFER
OF THE MONTH
Call now to book: 0800 082 2170 or visit
www.jetlinecruise.com/cruise-packages/new-york-shopping-queen-mary-2-239