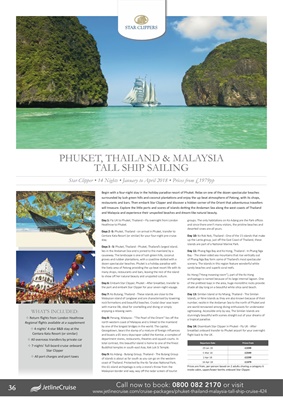 36
groups. The only habitations on Ko Adang are the Park offices
and since there aren't many visitors, the pristine beaches and
deserted coves are all yours.
Day 10: Ko Rok Nok, Thailand - One of the 15 islands that make
up the Lanta group, just off the East Coast of Thailand, these
islands are part of a National Marine Park.
Day 11: Phang Nga Bay and Ko Hong, Thailand - In Phang Nga
Bay - The sheer-sided sea mountains that rise vertically out
of Phang Nga Bay form some of Thailand's most spectacular
scenery. The islands in this region feature wonderful white
sandy beaches and superb coral reefs.
Ko Hong ("Hong meaning room"), part of the Ko Hong
archipelago is named because of its large internal lagoon. One
of the prettiest bays in the area, huge monolithic rocks provide
shade all day long on a beautiful white silica sand beach.
Day 13: Similan Island or Ko Miang, Thailand - The Similan
Islands, or Nine Islands as they are also known because of their
number, nestle in the Andaman Sea to the north of Phuket and
are world-renowned among diving enthusiasts for underwater
sightseeing. Accessible only by sea, The Similan Islands are
stunningly beautiful with scenes straight out of your dreams of
a tropical paradise.
Day 14: Disembark Star Clipper in Phuket - Fly UK - After
breakfast onboard transfer to Phuket airport for your overnight
flight back to the UK.
Departure Date Prices from
29 Jan 18 £2099
5 Mar 18 £2049
2 Apr 18 £2299
16 Apr 18 £1979
Prices are from, per person based on 2 adults sharing a category 6
inside cabin, upper/lower berths onboard Star Clipper.
PHUKET, THAILAND & MALAYSIA
TALL SHIP SAILING
Star Clipper • 14 Nights • January to April 2018 • Prices from £1979pp
WHAT'S INCLUDED:
✥ Return flights from London Heathrow
Regional flights available at a supplement
✥ 4-nights' 4-star B&B stay at the
Centara Kata Resort (or similar)
✥ All overseas transfers by private car
✥ 7-nights' full-board cruise onboard
Star Clipper
✥ All port charges and port taxes
Begin with a four-night stay in the holiday paradise resort of Phuket. Relax on one of the dozen spectacular beaches
surrounded by lush green hills and coconut plantations and enjoy the up-beat atmosphere of Patong, with its shops,
restaurants and bars. Then embark Star Clipper and discover a hidden corner of the Orient that adventurous travellers
will treasure. Explore the little ports and scores of islands dotting the Andaman Sea along the west coasts of Thailand
and Malaysia and experience their unspoiled beaches and dream-like natural beauty.
Day 1: Fly UK to Phuket, Thailand - Fly overnight from London
Heathrow to Phuket.
Days 2 -5: Phuket, Thailand - on arrival in Phuket, transfer to
Centara Kata Resort (or similar) for your four-night pre-cruise
stay.
Days 3 - 5: Phuket, Thailand - Phuket, Thailand's largest island,
lies in the Andaman Sea and is joined to the mainland by a
causeway. The landscape is one of lush green hills, coconut
groves and rubber plantations, with a coastline dotted with a
dozen spectacular beaches. Phuket is a holiday paradise with
the lively area of Patong providing the up-beat resort life with its
many shops, restaurants and bars, leaving the rest of the island
to show off her natural beauty and unspoiled culture.
Day 6: Embark Star Clipper, Phuket - After breakfast, transfer to
the port and embark Star Clipper for your seven-night voyage.
Day 7: Ko Butang, Thailand - These islands are close to the
Malaysian island of Langkawi and are characterised by towering
rock formations and beautiful beaches. Crystal clear seas team
with marine life, ideal for snorkelling and diving or simply
enjoying a relaxing swim.
Day 8: Penang, Malaysia - "The Pearl of the Orient" lies off the
north western coast of Malaysia and is linked to the mainland
by one of the longest bridges in the world. The capital,
Georgetown, bears the stamp of a mixture of foreign influences
and boasts a 65 story skyscraper called the Komtar, a complex of
department stores, restaurants, theatres and squash courts. In
total contrast, this beautiful island is home to one of the finest
Buddhist temples in south-east Asia, Kek Lok Si Temple.
Day 9: Ko Adang - Butang Group, Thailand - The Butang Group
of islands is about as far south as you can go on the western
coast of Thailand. Protected by the Ko Tarutao National Park,
this 61-island archipelago is only a stone's throw from the
Malaysian border and way, way off the radar screen of tourist
Call now to book: 0800 082 2170 or visit
www.jetlinecruise.com/cruise-packages/phuket-thailand-malaysia-tall-ship-cruise-424