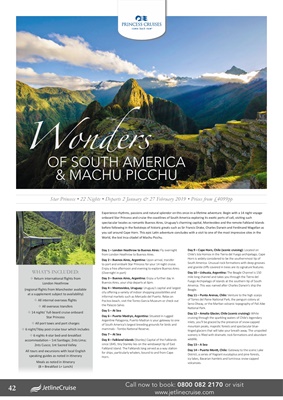 42
Day 1 - London Heathrow to Buenos Aires: Fly overnight
from London Heathrow to Buenos Aires.
Day 2 - Buenos Aires, Argentina: Upon arrival, transfer
to port and embark Star Princess for your 14 night cruise.
Enjoy a free afternoon and evening to explore Buenos Aires.
(Overnight in port)
Day 3 - Buenos Aires, Argentina: Enjoy a further day in
Buenos Aires, your ship departs at 6pm.
Day 4 - Montevideo, Uruguay: Uruguay's capital and largest
city offering a variety of indoor shopping possibilities and
informal markets such as Mercado del Puerto. Relax on
Pocitos beach, visit the Torres Garcia Museum or check out
the Palazzo Salvo.
Day 5 - At Sea
Day 6 - Puerto Madryn, Argentina: Situated in rugged
Argentine Patagonia, Puerto Madryn is your gateway to one
of South America's largest breeding grounds for birds and
mammals - Tombo National Reserve.
Day 7 - At Sea
Day 8 - Falkland Islands (Stanley) Capital of the Falklands
since 1845, tiny Stanley lies on the windswept tip of East
Falkland Island. The Falklands long served as a way station
for ships, particularly whalers, bound to and from Cape
Horn.
Star Princess • 22 Nights • Departs 2 January & 27 February 2019 • Prices from £4099pp
WHAT'S INCLUDED:
✥ Return international flights from
London Heathrow
(regional flights from Manchester available
at a supplement subject to availability)
✥ All internal overseas flights
✥ All overseas transfers
✥ 14 nights' full-board cruise onboard
Star Princess
✥ All port taxes and port charges
✥ 6 night/7day post cruise tour which includes
✥ 6 nights 4-star bed-and-breakfast
accommodation - 1nt Santiago; 2nts Lima;
2nts Cusco; 1nt Sacred Valley
All tours and excursions with local English
speaking guides as noted in itinerary
Meals as noted in itinerary
(B = Breakfast L= Lunch)
Experience rhythms, passions and natural splendor on this once-in-a-lifetime adventure. Begin with a 14 night voyage
onboard Star Princess and cruise the coastlines of South America exploring its exotic ports of call, visiting such
spectacular locales as romantic Buenos Aires, Uruguay's charming capital, Montevideo and the remote Falkland Islands
before following in the footsteps of historic greats such as Sir Francis Drake, Charles Darwin and Ferdinand Magellan as
you sail around Cape Horn. This epic Latin adventure concludes with a visit to one of the most impressive sites in the
World, the lost Inca citadel of Machu Picchu.
Day 9 - Cape Horn, Chile (scenic cruising): Located on
Chile's Isla Hornos in the Tierra del Fuego archipelago, Cape
Horn is widely considered to be the southernmost tip of
South America. Unusual rock formations with deep grooves
and granite cliffs covered in trees are its signature features.
Day 10 - Ushuaia, Argentina: The Beagle Channel is 150
mile long channel and takes you through the Tierra del
Fuego Archipelago of islands at the southern tip of South
America. This was named after Charles Darwin's ship the
Beagle.
Day 11 - Punta Arenas, Chile: Venture to the high scarps
of Torres del Paine National Park, the penguin colony at
Seno Otway, or the Martian volcanic topography of Pali Aike
National Park.
Day 12 - Amalia Glacier, Chile (scenic cruising): While
cruising through the sparkling waters of Chile's legendary
inlets, you'll be graced by the presence of snow-capped
mountain peaks, majestic forests and spectacular bluetinged
glaciers that will take your breath away. The unspoiled
scenery is filled with dramatic rock formations and abundant
wildlife.
Day 13 - A Sea
Day 14 - Puerto Montt, Chile: Gateway to the scenic Lake
District, a series of fragrant eucalyptus and pine forests,
icy lakes, Bavarian hamlets and luminous snow-capped
volcanoes.
Wonders
OF SOUTH AMERICA
& MACHU PICCHU
Call now to book: 0800 082 2170 or visit