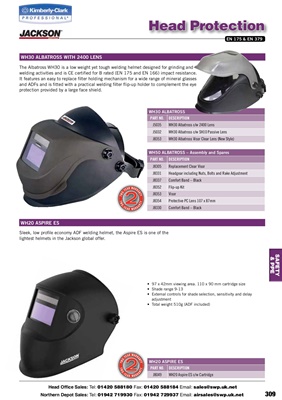 Head Office Sales: Tel: 01420 588180 Fax: 01420 588184 Email: sales@swp.uk.netttp://swp.uk.net" target="_blank" title="Visit swp.uk.net">swp.uk.netairsales@swp.uk.netpot Sales: Tel: 01942 719930 Fax: 01942 729937 Email: airsales@swp.uk.net 309
Full face welding helmet providing complete protection from sparks, spatter and heat
radiation. Solar cell technology means no battery charging is needed. Light seal cradle not
only shuts out arc light but introduces a convex curve to front cover lens, reducing spatter
adherence and extending life expectancy of cover lens.
Head Protection
WH30 ARCWING WITH 2400 LENS
• 97x47mm viewing area. 110x90mm cartridge size
• Shade range 9-13
• Internal controls for shade selection, sensitivity and delay
adjustment
• Hard hat adaptable
• Total weight 545 g (ADF included)
WH30 ALBATROSS WITH 2400 LENS
The Albatross WH30 is a low weight yet tough welding helmet designed for grinding and
welding activities and is CE certified for B rated (EN 175 and EN 166) impact resistance.
It features an easy to replace filter holding mechanism for a wide range of mineral glasses
and ADFs and is fitted with a practical welding filter flip-up holder to complement the eye
protection provided by a large face shield.
WH30 ALBATROSS
PART NO. DESCRIPTION
J5035 WH30 Albatross c/w 2400 Lens
J5032 WH30 Albatross c/w SH10 Passive Lens
J8353 WH30 Albatross Visor Clear Lens (New Style)
WH50 ALBATROSS - Assembly and Spares
PART NO. DESCRIPTION
J8305 Replacement Clear Visor
J8331 Headgear including Nuts, Bolts and Rake Adjustment
J8337 Comfort Band - Black
J8352 Flip-up Kit
J8353 Visor
J8354 Protective PC Lens 107 x 87mm
J8330 Comfort Band - Black
WH30 ARCWING
PART NO. DESCRIPTION
J5268 WH30 Arcwing c/w Cartridge
Available 2015
SAFETY
& PPE
EN 175 & EN 379