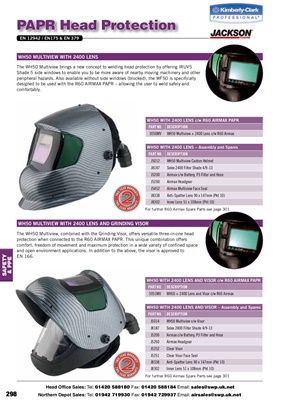 Head Office Sales: Tel: 01420 588180 Fax: 01420 588184 Email: sales@swp.uk.netttp://swp.uk.net" target="_blank" title="Visit swp.uk.net">swp.uk.netairsales@swp.uk.netpot Sales: Tel: 01942 719930 Fax: 01942 729937 Email: airsales@swp.uk.net
298
WH50 MULTIVIEW WITH 2400 LENS
WH50 MULTIVIEW WITH 2400 LENS AND GRINDING VISOR
WH50 WITH 2400 LENS c/w R60 AIRMAX PAPR
PART NO. DESCRIPTION
3050MV WH50 Multiview + 2400 Lens c/w R60 Airmax
WH50 WITH 2400 LENS - Assembly and Spares
PART NO. DESCRIPTION
J5012 WH50 Multiview Carbon Helmet
J8187 Solex 2400 Filter Shade 4/9-13
J5200 Airmax c/w Battery, P3 Filter and Hose
J5260 Airmax Headgear
J5452 Airmax Multiview Face Seal
J8338 Anti-Spatter Lens 90 x 147mm (Pkt 10)
J8302 Inner Lens 51 x 108mm (Pkt 10)
WH50 WITH 2400 LENS AND VISOR c/w R60 AIRMAX PAPR
PART NO. DESCRIPTION
3051MV WH50 + 2400 Lens and Visor c/w R60 Airmax
WH50 WITH 2400 LENS AND VISOR - Assembly and Spares
PART NO. DESCRIPTION
J5014 WH50 Multiview c/w Visor
J8187 Solex 2400 Filter Shade 4/9-13
J5200 Airmax c/w Battery, P3 Filter and Hose
J5260 Airmax Headgear
J5252 Clear Visor
J5251 Clear Visor Face Seal
J8338 Anti-Spatter Lens 90 x 147mm (Pkt 10)
J8302 Inner Lens 51 x 108mm (Pkt 10)
The WH50 Multiview brings a new concept to welding head protection by offering IRUV5
Shade 5 side windows to enable you to be more aware of nearby moving machinery and other
peripheral hazards. Also available without side windows (blocked), the WF50 is specifically
designed to be used with the R60 AIRMAX PAPR - allowing the user to weld safely and
comfortably.
The WH50 Multiview, combined with the Grinding Visor, offers versatile three-in-one head
protection when connected to the R60 AIRMAX PAPR. This unique combination offers
comfort, freedom of movement and maximum protection in a wide variety of confined space
and open environment applications. In addition to the above, the visor is approved to
EN 166.
For further R60 Airmax Spare Parts see page 301
For further R60 Airmax Spare Parts see page 301
PAPR Head Protection
SAFETY
& PPE
EN 12942 / EN175 & EN 379