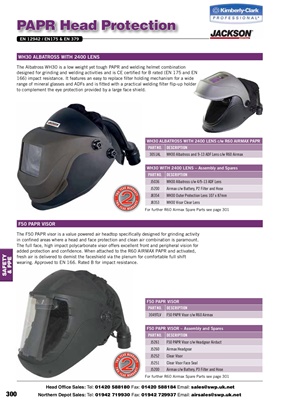 Head Office Sales: Tel: 01420 588180 Fax: 01420 588184 Email: sales@swp.uk.netttp://swp.uk.net" target="_blank" title="Visit swp.uk.net">swp.uk.netairsales@swp.uk.netpot Sales: Tel: 01942 719930 Fax: 01942 729937 Email: airsales@swp.uk.net
300
WH30 ALBATROSS WITH 2400 LENS
F50 PAPR VISOR
WH30 ALBATROSS WITH 2400 LENS c/w R60 AIRMAX PAPR
PART NO. DESCRIPTION
3051AL WH30 Albatross and 9-13 ADF Lens c/w R60 Airmax
WH30 WITH 2400 LENS - Assembly and Spares
PART NO. DESCRIPTION
J5036 WH30 Albatross c/w 4/9-13 ADF Lens
J5200 Airmax c/w Battery, P2 Filter and Hose
J8354 WH30 Outer Protection Lens 107 x 87mm
J8353 WH30 Visor Clear Lens
F50 PAPR VISOR
PART NO. DESCRIPTION
3049TLV F50 PAPR Visor c/w R60 Airmax
F50 PAPR VISOR - Assembly and Spares
PART NO. DESCRIPTION
J5261 F50 PAPR Visor c/w Headgear Airduct
J5260 Airmax Headgear
J5252 Clear Visor
J5251 Clear Visor Face Seal
J5200 Airmax c/w Battery, P3 Filter and Hose
The Albatross WH30 is a low weight yet tough PAPR and welding helmet combination
designed for grinding and welding activities and is CE certified for B rated (EN 175 and EN
166) impact resistance. It features an easy to replace filter holding mechanism for a wide
range of mineral glasses and ADFs and is fitted with a practical welding filter flip-up holder
to complement the eye protection provided by a large face shield.
The F50 PAPR visor is a value powered air headtop specifically designed for grinding activity
in confined areas where a head and face protection and clean air combination is paramount.
The full face, high impact polycarbonate visor offers excellent front and peripheral vision for
added protection and confidence. When attached to the R60 AIRMAX PAPR and activated,
fresh air is delivered to demist the faceshield via the plenum for comfortable full shift
wearing. Approved to EN 166. Rated B for impact resistance.
For further R60 Airmax Spare Parts see page 301
For further R60 Airmax Spare Parts see page 301
PAPR Head Protection
SAFETY
& PPE
EN 12942 / EN175 & EN 379