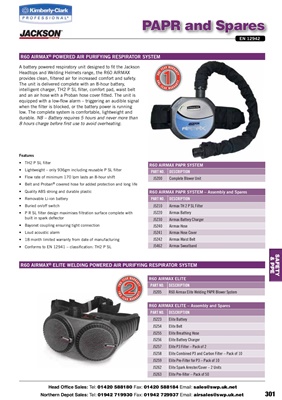 Head Office Sales: Tel: 01420 588180 Fax: 01420 588184 Email: sales@swp.uk.netttp://swp.uk.net" target="_blank" title="Visit swp.uk.net">swp.uk.netairsales@swp.uk.netpot Sales: Tel: 01942 719930 Fax: 01942 729937 Email: airsales@swp.uk.net 301
PAPR and Spares
R60 AIRMAX® POWERED AIR PURIFYING RESPIRATOR SYSTEM
A battery powered respiratory unit designed to fit the Jackson
Headtops and Welding Helmets range, the R60 AIRMAX
provides clean, filtered air for increased comfort and safety.
The unit is delivered complete with an 8-hour battery,
intelligent charger, TH2 P SL filter, comfort pad, waist belt
and an air hose with a Proban hose cover fitted. The unit is
equipped with a low-flow alarm - triggering an audible signal
when the filter is blocked, or the battery power is running
low. The complete system is comfortable, lightweight and
durable. NB - Battery requires 5 hours and never more than
8 hours charge before first use to avoid overheating.
Features
• TH2 P SL filter
• Lightweight - only 936gm including reusable P SL filter
• Flow rate of minimum 170 litres per minute for 8 hours
• Proban® covered belt and hose as standard prolonged life
• Quality ABS strong and durable plastic
• Removable Li-ion battery
• Buried on/off switch
• P R SL filter design maximises filtration surface complete with
built in spark deflector
• Bayonet coupling ensuring tight connection
• Loud acoustic alarm
• 18 month limited warranty from date of manufacturing
• Conforms to EN 12941 - classification: TH2 P SL
R60 AIRMAX PAPR SYSTEM
PART NO. DESCRIPTION
J5200 Complete Blower Unit
R60 AIRMAX PAPR SYSTEM - Assembly and Spares
PART NO. DESCRIPTION
J5210 Airmax TH 2 P SL Filter
J5220 Airmax Battery
J5230 Airmax Battery Charger
J5240 Airmax Hose
J5241 Airmax Hose Cover
J5242 Airmax Waist Belt
J5462 Airmax Sweatband
SAFETY
& PPE
R60 AIRMAX ELITE
PART NO. DESCRIPTION
J5205 R60 Airmax Elite PAPR Blower System
R60 AIRMAX ELITE - Assembly and Spares
PART NO. DESCRIPTION
J5223 Battery
J5254 Belt
J5256 Battery Charger
J5257 PAPR P3 Filters - Pack of 2
J5259 Pre-Filter for P3 - Pack of 10
J5260 Spark Arrester/Cover - 2 Units
R60 AIRMAX ELITE CHEMICAL
PART NO. DESCRIPTION
J5265 R60 Airmax Elite Chemical PAPR Blower System
R60 AIRMAX ELITE CHEMICAL - Assembly and Spares
PART NO. DESCRIPTION
J5245 Flexi-Hose
J5222 Li-ion Battery
J5254 Belt
J5249 Battery Charger
J5283 PAPR P3 Filters TH3 - Pack of 2
J5284 PAPR Filters A1B1E1P3 TH3 - Pack of 2
EN 12942