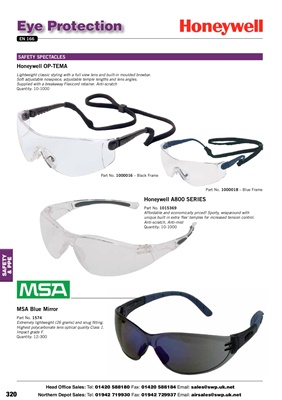 Honeywell OP-TEMA
Lightweight classic styling with a full view lens and built-in moulded browbar.
Soft adjustable nosepiece, adjustable temple lengths and lens angles.
Supplied with a breakaway Flexicord retainer. Anti-scratch
Quantity: 10-1000
Honeywell A800 SERIES
Part No. 1015369
Affordable and economically priced! Sporty, wraparound with
unique built in extra 'flex' temples for increased tension control.
Anti-scratch, Anti-mist
Quantity: 10-1000
MSA Blue Mirror
Part No. 1574
Extremely lightweight (26 grams) and snug fitting.
Highest polycarbonate lens optical quality Class 1.
Impact grade F.
Quantity: 12-300
SAFETY SPECTACLES
Part No. 1000016 - Black Frame
Part No. 1000018 - Blue Frame
Eye Protection
Head Office Sales: Tel: 01420 588180 Fax: 01420 588184 Email: sales@swp.uk.netttp://swp.uk.net" target="_blank" title="Visit swp.uk.net">swp.uk.netairsales@swp.uk.netpot Sales: Tel: 01942 719930 Fax: 01942 729937 Email: airsales@swp.uk.net
320
SAFETY
& PPE
EN 166