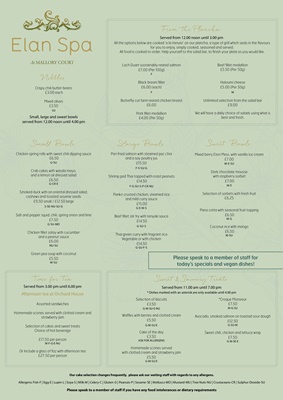 Small Bowls
Chicken spring rolls with sweet chili dipping sauce
£6.50
G-SU
Crab cakes with wasabi mayo,
and a lemon oil dressed salad
£6.50
G-CR-E
Smoked duck with an oriental dressed salad,
cashews and toasted sesame seeds
£9.50 small / £12.50 large
S-SE-NU-SU-G
Salt and pepper squid, chili, spring onion and lime
£7.50
G-SU-MO
Chicken fillet satay with cucumber
and a peanut sauce
£6.00
NU-SU
Green pea soup with coconut
£5.50
M-SU
Nibbles
Crispy chili butter beans
£3.00 each
Mixed olives
£3.50
SU
Time for Tea
Served from 3.00 pm until 6.00 pm
Afternoon tea at Orchard House
Assorted sandwiches
Homemade scones served with clotted cream and
strawberry jam
Selection of cakes and sweet treats
Choice of hot beverage
£17.50 per person
M-F-G-E-NU
Or Include a glass of fizz with afternoon tea
£27.50 per person
Sweet & Savoury Treats
Served from 11.00 am until 7.00 pm
From the Plancha
Served from 12.00 noon until 3.00 pm
Large Bowls
Pan fried salmon with steamed pac choi
and a soy poultry jus
£15.50
F-S-SU-G
Shrimp pad Thai topped with roast peanuts
£14.50
F-G-SU-S-P-CR-NU
Panko crusted chicken, steamed rice
and mild curry sauce
£15.00
G-E-M-S
Beef fillet stir fry with teriyaki sauce
£14.50
G-SU-S
Thai green curry with fragrant rice
Vegetable or with chicken
£14.50
G-SU-F-S
Sweet Bowls
Mixed berry Eton Mess, with vanilla ice cream
£7.00
M-E-SU
Dark chocolate mousse
with raspberry sorbet
£7.00
M-E
Selection of sorbets with fresh fruit
£6.25
Pana cotta with seasonal fruit topping
£6.50
M-G
Coconut rice with mango
£6.50
M-SU
Our cake selection changes frequently, please ask our waiting staff with regards to any allergens.
Allergens: Fish-F | Egg-E | Lupin-L | Soya-S | Milk-M | Celery-C | Gluten-G | Peanuts-P | Sesame-SE | Molluscs-MO | Mustard-MU | Tree Nuts-NU | Crustaceans-CR | Sulphur Dioxide-SU
Please speak to a member of staff if you have any food intolerances or dietary requirements
Selection of biscuits
£3.50
G-M-SU-E-NU
Waffles with berries and clotted cream
£5.50
G-M-SU-E
Cake of the day
£3.50
ASK FOR ALLERGENS
Homemade scones served
with clotted cream and strawberry jam
£5.50
G-M-SU-E
*Croque Monsieur
£7.50
M-G-SU
Avocado, smoked salmon on toasted sour dough
£12.50
G-SU-M
Sweet chili, chicken and lettuce wrap
£7.50
G-M-SE-E
Loch Duart sustainably reared salmon
£7.00 (Per 100g)
F
Black bream fillet
£6.00 (each)
F
Butterfly cut farm reared chicken breast
£6.00
Pork fillet medallion
£4.00 (Per 50g)
Beef fillet medallion
£5.50 (Per 50g)
Haloumi cheese
£5.00 (Per 50g)
M
Unlimited selection from the salad bar
£9.00
We will have a daily choice of salads using what is
best and fresh.
All the options below are cooked 'a la minute' on our plancha, a type of grill which seals in the flavours
for you to enjoy, simply cooked, seasoned and served.
All food is cooked to order. Help yourself to the salad bar, to finish your plate as you would like.
Small, large and sweet bowls
served from 12.00 noon until 4.00 pm
* Dishes marked with an asterisk are only available until 4.00 pm
Please speak to a member of staff for
today's specials and vegan dishes!
PRINT - Spa Menu.indd 1 24/09/2019 16:48