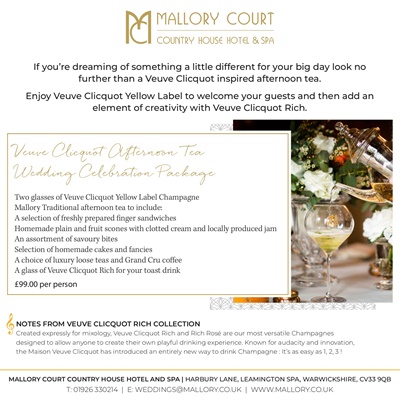 NOTES FROM VEUVE CLICQUOT RICH COLLECTION
Created expressly for mixology, Veuve Clicquot Rich and Rich Rosé are our most versatile Champagnes
designed to allow anyone to create their own playful drinking experience. Known for audacity and innovation,
the Maison Veuve Clicquot has introduced an entirely new way to drink Champagne : It's as easy as 1, 2, 3 !
MALLORY COURT COUNTRY HOUSE HOTEL AND SPA | HARBURY LANE, LEAMINGTON SPA, WARWICKSHIRE, CV33 9QB
T: 01926 330214 | E: weddings@mallory.co.uk | www.mallory.co.uk
If you're dreaming of something a little different for your big day look no
further than a Veuve Clicquot inspired afternoon tea.
Enjoy Veuve Clicquot Yellow Label to welcome your guests and then add an
element of creativity with Veuve Clicquot Rich.
Veuve Clicquot Afternoon Tea
Wedding Celebration Package
Two glasses of Veuve Clicquot Yellow Label Champagne
Mallory Traditional afternoon tea to include:
A selection of freshly prepared finger sandwiches
Homemade plain and fruit scones with clotted cream and locally produced jam
An assortment of savoury bites
Selection of homemade cakes and fancies
A choice of luxury loose teas and Grand Cru coffee
A glass of Veuve Clicquot Rich for your toast drink
£99.00 per person