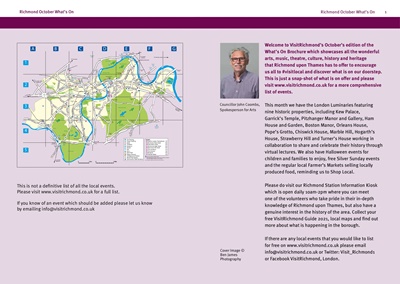 Richmond October What's On Richmond October What's On 1
Welcome to VisitRichmond's October's edition of the
What's On Brochure which showcases all the wonderful
arts, music, theatre, culture, history and heritage
that Richmond upon Thames has to offer to encourage
us all to #visitlocal and discover what is on our doorstep.
This is just a snap-shot of what is on offer and please
visit www.visitrichmond.co.uk for a more comprehensive
list of events.
This month we have the London Luminaries featuring
nine historic properties, including Kew Palace,
Garrick's Temple, Pitzhanger Manor and Gallery, Ham
House and Garden, Boston Manor, Orleans House,
Pope's Grotto, Chiswick House, Marble Hill, Hogarth's
House, Strawberry Hill and Turner's House working in
collaboration to share and celebrate their history through
virtual lectures. We also have Halloween events for
children and families to enjoy, free Silver Sunday events
and the regular local Farmer's Markets selling locally
produced food, reminding us to Shop Local.
Please do visit our Richmond Station Information Kiosk
which is open daily 10am-2pm where you can meet
one of the volunteers who take pride in their in-depth
knowledge of Richmond upon Thames, but also have a
genuine interest in the history of the area. Collect your
free VisitRichmond Guide 2021, local maps and find out
more about what is happening in the borough.
If there are any local events info@visitrichmond.co.ukist
for free on www.visitrichmond.co.uk please email
info@visitrichmond.co.uk or Twitter: Visit_Richmond1
or Facebook VisitRichmond, London.
Councillor John Coombs,
Spokesperson for Arts
Cover Image ©
Ben James
Photography
This iinfo@visitrichmond.co.ukof all the local events.
Please visit www.visitrichmond.co.uk for a full list.
If you know of an event which should be added please let us know
by emailing info@visitrichmond.co.uk
Hampton
Court
Hounslow
Whitton
St Margarets
RichmondRichmond
North
Sheen Mortlake
Kew
Gardens
Kew
Bridge
Chiswick
Barnes
Barnes
Bridge
Twickenham
Strawberry
Hill
Hampton
Fulwell
Teddington
Hampton
Wick
Kingston
Brentford High Street
Sandycombe Road
A205 Mortlake Road
Kew Road A307
Road A310 Twickenham Road
South Stre et
St Margarets Road
Mortlake High St Lonsdale Road
Rocks Lane Castelnau
Clifford Avenue A316
Church Road
Station Road Queens Ride
Sheen Road A305 Upper Richmond Road West Upper Richmond Road West A205
Roehampton Lane
A306
Priory Lane
Sawyer's Hill
Lower
The Avenue Twickenham Road
Richmond Road
Sheen Lane
Petersham Road
Kings Road
Church Rd Paradise
Road
Queens Road
St Margarets Road Richmond Hill
Petersham Road A307
Richmond Road
Hanworth Road A314
Nelson Road Warren Road Whitton Road
Whitton � ene Mogden Lane
Hospital Bridge Road
Percy Road
Great Chertsey Road
Twickenham Road Staines Road A305 Heath Road King St
Sixth Cross Road South
Chertsey Road A316
Rugby Road
Kneller Ro ad
London
Chertsey Road
York St Richmond Rd A 305
Waldegrave Road
Strawberry � ale T wickenham Manor Rd Kingston Road A310 Upper Teddington Rd High St
Church St High St A311 Wellington Road Hampton Road A311
Ham Street
Sandy Lane
Park Road Hampton Road Broad St
Stanley Road
Hampton Road East A312 Uxbridge Road
Station Road
Upper Sunbury Road A308 Thames St Hampton Court Road
High St
High Street Ferry
Park Road Park Road Sandy Lane Church Grove
Queens Road
Hampton Court Road A308
A309 Hampton Court Way
Hurst Road
A308 Kingston Hill Kingston Vale Roehampton Vale Kingston Road A3
Kingston By-pass
A3
Ham Gate Avenue
Lower Mortlake Rd
A312
Nelson Road
Road
Rd
Cross Dee p A310
London Road
River Thames
A316
Kew Road
Chudleigh Rd
To M3, M25
M4, M25, M40
Heathrow
Crane Park
Nature Reserve
Crane Park
Twickenham
Green
Kneller
Gardens
Whitton
Hampton
Hampton Wick
Teddington
Strawberry
Hill
Petersham
Twickenham
Richmond
East Sheen
Mortlake
Ham
Fulwell Park
Bushy Home Park
Park
Ham
Riverside
Lands
Ham
Common
Isabella
Plantation
Richmond Park
BarnesCommon
Ham
Riverside
Lands
Marble Hill
Park
Osterley
Park
Syon Park
Old Deer Park
Kew Gardens
Garrick's Temple
Landmark
Arts Centre
Wimbledon
Lawn Tennis
Museum
Pembroke
Lodge
Strawberry
Hill
Ham
House
York
House Marble
Hill
Orleans
House
Gallery
Syon
House
Musical Museum
Kew Bridge
Steam Museum
Kneller
Hall
Twickenham
Stadium
and Museum
Harlequins FC
and London Irish
R.F.C Ground
Twickenham
Bridge
Richmond Athletic
Ground
London Welsh
R.F.U
Richmond
Bridge
Chiswick
Bridge
Barnes
Bridge
Footbridge
Kew
Bridge
Hammersmith
Bridge
The Wetland
Centre Barnes
Public
record office
Hampton
Court
Palace
Diana
Fountain
Molesey
Lock
Hampton
Court Bridge
Teddington
Lock
Kingston
Gate
Robin Hood
Gate
�Entrance Only�
Ham
Gate
Eel Pie Island
Roehampton
Gate
East Sheen
Gate
Richmond Gate
Pen Ponds
Kingston
Bridge
Hogarth's
House
Chiswick
House
National Archives
M4
To Central London
To Hounslow
To London
Waterloo
To London
Waterloo
To London
Victoria Hotels
Marriot London Twickenham C2
Richmond Park Hotel D2
Petersham Hotel D2
Richmond Gate Hotel D2
Richmond Hill Hotel D2
The Lensbury C4
The Victoria E2
Bingham D2
Premier Hotel E2
Car Parking
Coach Parking
Hotel
Theatres
Museum
House
Pier
Ferry
Deer Park
Rugby Ground
Underground Station
British Rail Station
Community Toilet Scheme
The Community Toilet Scheme
Participating businesses can be found at these locations
They will display a sticker in the window
© Cown copyright and database rights 2012 Ordnance Survey 100019441
Richmond October What's On