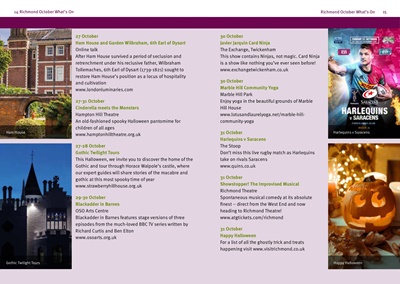 Richmond October What's On Richmond October What's On
14 15
27 October
Ham House and Garden Wilbraham, 6th Earl of Dysart
Online talk
After Ham House survived a period of seclusion and
retrenchment under his reclusive father, Wilbraham
Tollemaches, 6th Earl of Dysart (1739-1821) sought to
restore Ham House's position as a locus of hospitality
and cultivation
27-31 October
Cinderella meets the Monsters
Hampton Hill Theatre
An old-fashioned spooky Halloween pantomime for
children of all ages
27-28 October
Gothic Twilight Tours
This Halloween, we invite you to discover the home of the
Gothic and tour through Horace Walpole's castle, where
our expert guides will share stories of the macabre and
gothic at this most spooky time of year
www.strawberryhillhouse.org.uk
29-30 October
Blackadder in Barnes
OSO Arts Centre
Blackadder in Barnes features stage versions of three
episodes from the much-loved BBC TV series written by
Richard Curtis and Ben Elton
30 October
Javier Jarquin Card Ninja
The Exchange, Twickenham
This show contains Ninjas, not magic. Card Ninja
is a show like nothing you've ever seen before!
30 October
Marble Hill Community Yoga
Marble Hill Park
Enjoy yoga in the beautiful grounds of Marble
Hill House
www.lotusandlaurelyoga.net/marble-hillcommunity-yoga
31 October
Harlequins v Saracens
The Stoop
Don't miss this live rugby match as Harlequins
take on rivals Saracens
31 October
Showstopper! The Improvised Musical
Richmond Theatre
Spontaneous musical comedy at its absolute
finest - direct from the West End and now
heading to Richmond Theatre!
31 October
Happy Halloween
For a list of all the ghostly trick and treats
happening visit www.visitrichmond.co.uk
Gothic Twilight Tours
Ham House Harlequins v Saracens
Happy Halloween