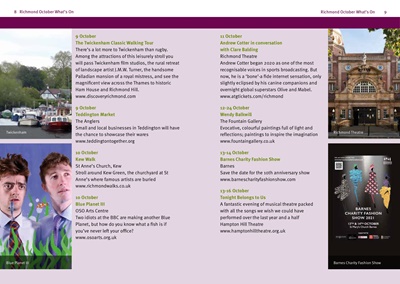 Richmond October What's On Richmond October What's On
8 9
9 October
The Twickenham Classic Walking Tour
There's a lot more to Twickenham than rugby.
Among the attractions of this leisurely stroll you
will pass Twickenham film studios, the rural retreat
of landscape artist J.M.W. Turner, the handsome
Palladian mansion of a royal mistress, and see the
magnificent view across the Thames to historic
Ham House and Richmond Hill.
9 October
Teddington Market
The Anglers
Small and local businesses in Teddington will have
the chance to showcase their wares
10 October
Kew Walk
St Anne's Church, Kew
Stroll around Kew Green, the churchyard at St
Anne's where famous artists are buried
10 October
Blue Planet III
OSO Arts Centre
Two idiots at the BBC are making another Blue
Planet, but how do you know what a fish is if
you've never left your office?
11 October
Andrew Cotter in conversation
with Clare Balding
Richmond Theatre
Andrew Cotter began 2020 as one of the most
recognisable voices in sports broadcasting. But
now, he is a 'bone'-a fide internet sensation, only
slightly eclipsed by his canine companions and
overnight global superstars Olive and Mabel.
12-24 October
Wendy Balkwill
The Fountain Gallery
Evocative, colourful paintings full of light and
reflections; paintings to inspire the imagination
13-14 October
Barnes Charity Fashion Show
Barnes
Save the date for the 10th anniversary show
www.barnescharityfashionshow.com
13-16 October
Tonight Belongs to Us
A fantastic evening of musical theatre packed
with all the songs we wish we could have
performed over the last year and a half
Hampton Hill Theatre
Twickenham Richmond Theatre
Barnes Charity Fashion Show
Blue Planet III