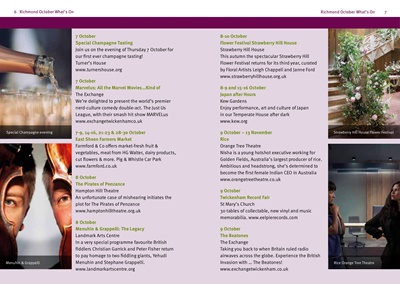 Richmond October What's On Richmond October What's On
6 7
7 October
Special Champagne Tasting
Join us on the evening of Thursday 7 October for
our first ever champagne tasting!
Turner's House
7 October
Marvelus: All the Marvel Movies…Kind of
The Exchange
We're delighted to present the world's premier
nerd-culture comedy double-act. The Just Us
League, with their smash hit show MARVELus
7-9, 14-16, 21-23 & 28-30 October
East Sheen Farmers Market
Farmford & Co offers market-fresh fruit &
vegetables, meat from HG Walter, dairy products,
cut flowers & more. Pig & Whistle Car Park
8 October
The Pirates of Penzance
Hampton Hill Theatre
An unfortunate case of mishearing initiates the
plot for The Pirates of Penzance
8 October
Menuhin & Grappelli: The Legacy
Landmark Arts Centre
In a very special programme favourite British
fiddlers Christian Garrick and Peter Fisher return
to pay homage to two fiddling giants, Yehudi
Menuhin and Stephane Grappelli.
8-10 October
Flower Festival Strawberry Hill House
Strawberry Hill House
This autumn the spectacular Strawberry Hill
Flower Festival returns for its third year, curated
by Floral Artists Leigh Chappell and Janne Ford
www.strawberryhillhouse.org.uk
8-9 and 15-16 October
Japan after Hours
Kew Gardens
Enjoy performance, art and culture of Japan
in our Temperate House after dark
9 October - 13 November
Rice
Orange Tree Theatre
Nisha is a young hotshot executive working for
Golden Fields, Australia's largest producer of rice.
Ambitious and headstrong, she's determined to
become the first female Indian CEO in Australia
9 October
Twickenham Record Fair
St Mary's Church
30 tables of collectable, new vinyl and music
memorabilia. www.eelpierecords.com
9 October
The Beatones
The Exchange
Taking you back to when Britain ruled radio
airwaves across the globe. Experience the British
Invasion with … The Beatones!
Rice Orange Tree Theatre
Menuhin & Grappelli
Special Champagne evening Strawberry Hill House Flower Festival