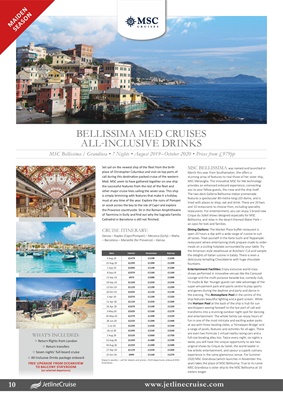 10
Date Interior Oceanview Balcony
4 Aug 19 £1479 £1599 £1699
25 Aug 19 £1299 £1399 £1399
1 Sep 19 £1099 £1199 £1289
8 Sep 19 £1079 £1169 £1169
15 Sep 19 £979 £1089 £1089
29 Sep 19 £1169 £1259 £1359
13 Oct 19 £1129 £1199 £1299
20 Oct 19 £1029 £1129 £1199
5 Apr 20 £1079 £1199 £1329
12 Apr 20 £1129 £1259 £1369
26 Apr 20 £1079 £1199 £1329
3 May 20 £1029 £1169 £1279
24 May 20 £1279 £1399 £1529
28 Jun 20 £1259 £1399 £1499
5 Jul 20 £1299 £1439 £1549
26 Jul 20 £1399 £1529 £1639
2 Aug 20 £1529 £1669 £1769
23 Aug 20 £1349 £1489 £1599
30 Aug 20 £1259 £1399 £1499
27 Sep 20 £1129 £1259 £1369
25 Oct 20 £999 £1169 £1279
Departs weekly - call for details and prices. 2020 departures onboard MSC
Grandiosa.
BELLISSIMA MED CRUISES
ALL-INCLUSIVE DRINKS
MSC Bellissima / Grandiosa • 7 Nights • August 2019-October 2020 • Prices from £979pp
WHAT'S INCLUDED:
✥ Return flights from London
✥ Return transfers
✥ Seven nights' full-board cruise
✥ All-Inclusive Drinks package onboard
FREE UPGRADE FROM OCEANVIEW
TO BALCONY STATEROOM
(on selected departures)
Set sail on the newest ship of the fleet from the birth
place of Christopher Columbus and visit six top ports of
call during this destination packed cruise of the western
Med. MSC seem to have gathered together on one ship
the successful features from the rest of the fleet and
other major cruise lines sailing the seven seas. This ship
is simply brimming with features that make it a holiday
must at any time of the year. Explore the ruins of Pompeii
or scoot across the bay to the isle of Capri and explore
the Provence countryside. Sit in the Roman Amphitheatre
of Taormina in Sicily and find out why the Sagrada Familia
Cathedral in Barcelona is still not finished.
CRUISE ITINERARY:
Genoa - Naples (Capri/Pompeii) - Messina (Sicily) - Malta
- Barcelona - Marseille (for Provence) - Genoa
MSC BELLISSIMA was named and launched in
March this year from Southampton. She offers a
stunning array of features to rival those of her sister ship,
MSC Meraviglia. The innovative MSC for Me technology
provides an enhanced onboard experience, connecting
you to your fellow guests, the crew and the ship itself.
The two-deck Galleria Bellissima indoor promenade
features a spectacular 80-metre-long LED dome, and is
lined with places to shop, eat and drink. There are 20 bars
and 10 restaurants to choose from, including speciality
restaurants. For entertainment, you can enjoy 2 brand new
Cirque du Soleil shows designed especially for MSC
Bellissima; and relax in the desert themed Water Park -
an oasis for kids and families.
Dining Options: The Market Place buffet restaurant is
open 20 hours a day with a wide range of cuisine to suit
all tastes. Treat yourself in the Kaito Sushi and Teppanyaki
restaurant where entertaining chefs prepare made to order
meals on a sizzling hotplate surrounded by your table. Try
the American style steakhouse at Butchers' Cut and sample
the delights of Italian cuisine in Eataly. There is even a
deliciously tempting Chocolaterie with huge chocolate
fountains.
Entertainment Facilities: Enjoy exclusive world-class
shows performed in innovative venues like the Carousel
Lounge and the multi-purpose karaoke bar, comedy club,
TV studio & Bar. Younger guests can take advantage of the
super-amusement park and sports centre to play sports
and games during the daytime and party and dance in
the evening. The Atmosphere Pool in the centre of the
ship features beautiful lighting and a giant screen. While
the Horizon Pool at the back of the ship is hub for sun
worshippers waving farewell to the last port of call and
transforms into a stunning outdoor night spot for dancing
and entertainment. The whole family can enjoy hours of
fun in one of the most intricate and exciting water parks
at sea with three twisting slides, a 'Himalayan Bridge' and
a range of pools, features and activities for all ages. There
are even two Formula 1 virtual-reality racing cars and a
full-size bowling alley too. Twice every night, six nights a
week, you will have the unique opportunity to see two
original shows by Cirque du Soleil, the world leader in
live artistic entertainment, and savour a superb culinary
experience in the same glamorous venue. For Summer
2020 MSC Grandisoa (which launches in November this
year) takes the place of MSC Bellissima. True to its name
MSC Grandiosa is sister ship to the MSC Bellissima at 16
meters longer.
MAIDEN
SEASON