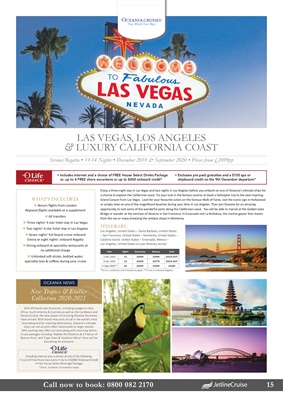 Call now to book: 0800 082 2170 15
LAS VEGAS, LOS ANGELES
& LUXURY CALIFORNIA COAST
Sirena/Regatta • 13-14 Nights • December 2019 & September 2020 • Prices from £2099pp
Enjoy a three-night stay in Las Vegas and two nights in Los Angeles before you embark on one of Oceania's intimate ships for
a chance to explore the Californian coast. Try your luck in the famous casinos or book a helicopter trip to the awe-inspiring
Grand Canyon from Las Vegas. Look for your favourite actors on the famous Walk of Fame, visit the iconic sign in Hollywood
or simply relax on one of the magnificent beaches during your time in Los Angeles. Then join Oceania for an amazing
opportunity to visit some of the wonderful ports along the Californian coast. You will be able to marvel at the Golden Gate
Bridge or wonder at the eeriness of Alcatraz in San Francisco. In Ensenada visit La Bufadora, the marine geyser that shoots
from the sea or enjoy browsing the antique shops in Monterey.
WHAT'S INCLUDED:
✥ Return flights from London
Regional flights available at a supplement
✥ All transfers
✥ Three nights' 4-star hotel stay in Las Vegas
✥ Two nights' 4-star hotel stay in Los Angeles
✥ Seven nights' full-board cruise onboard
Sirena or eight nights' onboard Regatta
✥ Dining onboard at speciality restaurants at
no additional charge
✥ Unlimited soft drinks, bottled water,
speciality teas & coffees during your cruise
ITINERARY:
Los Angeles, United States - Santa Barbara, United States
- San Francisco, United States - Monterey, United States -
Catalina Island, United States - Ensenada, Mexico -
Los Angeles, United States (cruise itinerary varies)
Date Nights Oceanview Balcony Suite
2 Dec 2019 13 £2099 £2499 SOLD OUT
9 Dec 2019 13 £2429 £2779 SOLD OUT
17 Sept 2020** 14 £2629 £3349 £4199
*Terms, conditions and limitations apply. **Cruise is onboard Regatta.
• Includes internet and a choice of FREE House Select Drinks Package
or, up to 4 FREE shore excursions or up to $400 onboard credit*
• Exclusive pre paid gratuities and a $100 spa or
shipboard credit on the 9th December departure*
New Tropics & Exotics
Collection 2020-2021
With 69 brand new itineraries, including voyages to Asia,
Africa, South America & Australia as well as the Caribbean and
Panama Canal, the new season of stunning Oceania itineraries
have arrived. With brand new ports of call in the world's most
fascinating and far reaching destinations, Oceania's intimate
ships can call at ports often inaccessible to larger vessels.
With exciting new offers to come along with returning Jetline
Cruise packages including 'Radiant Rio Rhythms & A Flavour of
Buenos Aires' and 'Cape Town & Southern Africa' there will be
something for everyone.
OCEANIA NEWS
Including Internet plus a choice of one of the following:
• Up to 8 Free Shore Excursions • Up to US$800 Shipboard Credit
• Free House Select Beverage Package
*Terms, conditions & limitations apply