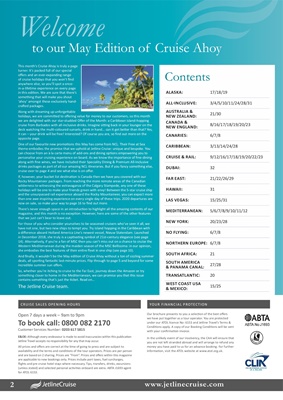 2 Open 7 days a week - 9am to 9pm
To book call: 0800 082 2170
Customer Services Number: 0203 617 5815
E&OE: Although every endeavour is made to avoid inaccuracies within this publication
Jetline Travel accepts no responsibility for any that may occur.
All prices and offers are correct at the time of going to press and are subject to
availability and the terms and conditions of the tour operators. Prices are per person
and are based on 2 sharing. Prices are "From". Prices and offers within this magazine
are applicable to new bookings only. Prices include port taxes, fuel surcharges,
flights and pre cruise hotel stays where necessary. Tips, transfers, drinks, excursions
(unless stated) and selected personal activities onboard are extra. ABTA J1693 agent
for ATOL 6153.
CRUISE SALES OPENING HOURS
Our brochure presents to you a selection of the best offers
we have put together as a tour operator. You are protected
under our ATOL licence No: 6153 and Jetline Travel's Terms &
Conditions apply. A copy of our Booking Conditions will be sent
with your confirmation invoice.
In the unlikely event of our insolvency, the CAA will ensure that
you are not left stranded abroad and will arrange to refund any
money you have paid to us for an advance booking. For further
information, visit the ATOL website at www.atol.org.uk.
YOUR FINANCIAL PROTECTION
This month's Cruise Ahoy is truly a page
turner. It's packed full of our special
offers and an ever-expanding range
of cruise holidays that you won't find
anywhere else, so you'll spot a oncein-a-lifetime
experience on every page
in this edition. We are sure that there's
something that will make you shout
'ahoy' amongst these exclusively handcrafted
packages.
Along with dreaming up unforgettable
holidays, we are committed to offering value for money to our customers, so this month
we are delighted with our star-studded Offer of the Month: a Caribbean island-hopping
cruise from Barbados with all-inclusive drinks. Imagine sitting back in your lounger on the
deck watching the multi-coloured sunsets, drink in hand… can it get better than that? Yes,
it can - your drink will be free! Interested? Of course you are, so find out more on the
opposite page.
One of our favourite new promotions this May has come from NCL. Their Free at Sea
theme embodies the promise that we uphold at Jetline Cruise: unique and bespoke. You
can choose from an à la carte menu of add-ons and dining options empowering you to
personalise your cruising experience on board. As we know the importance of fine-dining
along with fine wines, we have included their Speciality Dining & Premium All-Inclusive
drinks packages as part of all our amazing NCL itineraries. But if you fancy something else,
cruise over to page 4 and see what else is on offer.
If, however, your bucket list destination is Canada then we have you covered with our
Rocky Mountaineer packages. From reaching the more remote areas of the Canadian
wilderness to witnessing the extravaganza of the Calgary Stampede, any one of these
holidays will be one to make your friends green with envy! Between the 5-star cruise ship
and the unsurpassed rail experience aboard the Rocky Mountaineer, you can expect more
than one awe-inspiring experience on every single day of these trips. 2020 departures are
now on sale, so make your way to page 16 to find out more.
There's never enough space in an introduction to highlight all the amazing contents of our
magazine, and this month is no exception. However, here are some of the other features
that we just can't bear to leave out.
For those of you who consider yourselves to be seasoned cruisers who've seen it all, we
have not one, but two new ships to tempt you. Try island hopping in the Caribbean with
a difference aboard Holland America Line's newest vessel, Nieuw Statendam. Launched
in December 2018, she truly is a captivating symbol of 21st-century elegance (see page
14). Alternatively, if you're a fan of MSC then you can't miss out on a chance to cruise the
Western Mediterranean during the maiden season of the MSC Bellissima: in our opinion,
she embodies the best features of their entire fleet in one ship (see page 10).
And finally, it wouldn't be the May edition of Cruise Ahoy without a ton of sizzling summer
deals, all sporting fantastic last-minute prices. Flip through to page 5 and beyond for some
incredible summer sun offers.
So, whether you're itching to cruise to the Far East, journey down the Amazon or try
something closer to home in the Mediterranean, we can promise you that this issue
contains something that's just the ticket. Read on…
The Jetline Cruise team.
to our May Edition of Cruise Ahoy
Welcome
ALASKA: 17/18/19
ALL-INCLUSIVE: 3/4/5/10/11/24/28/31
AUSTRALIA &
NEW ZEALAND:
21/30
CANADA &
NEW ENGLAND:
8/16/17/18/19/20/23
CANARIES: 6/7/8
CARIBBEAN: 3/13/14/24/28
CRUISE & RAIL: 9/12/16/17/18/19/20/22/23
DUBAI: 32
FAR EAST: 21/22/26/29
HAWAII: 31
LAS VEGAS: 15/25/31
MEDITERRANEAN: 5/6/7/8/9/10/11/12
NEW YORK: 20/23/28
NO FLYING: 6/7/8
NORTHERN EUROPE: 6/7/8
SOUTH AFRICA: 21
SOUTH AMERICA
& PANAMA CANAL:
27/28
TRANSATLANTIC: 20
WEST COAST USA
& MEXICO:
15/25
Contents