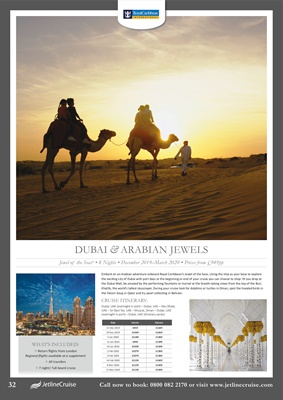 32 Call now to book: 0800 082 2170 or visit www.jetlinecruise.com
DUBAI & ARABIAN JEWELS
Jewel of the Seas® • 8 Nights • December 2019-March 2020 • Prices from £949pp
WHAT'S INCLUDED:
✥ Return flights from London
Regional flights available at a supplement
✥ All transfers
✥ 7 nights' full-board cruise
Embark on an Arabian adventure onboard Royal Caribbean's Jewel of the Seas. Using the ship as your base to explore
the exciting city of Dubai with port days at the beginning or end of your cruise you can choose to shop 'til you drop at
the Dubai Mall, be amazed by the performing fountains or marvel at the breath-taking views from the top of the Burj
Khalifa, the world's tallest skyscraper. During your cruise look for dolphins or turtles in Oman, spot the hooded birds in
the Falcon Souq in Qatar and try pearl collecting in Bahrain.
CRUISE ITINERARY:
Dubai, UAE (overnight in port) - Dubai, UAS - Abu Dhabi,
UAE - Sir Bani Yas, UAE - Muscat, Oman - Dubai, UAE
(overnight in port) - Dubai, UAE (itinerary varies)
Date Interior Balcony
15 Dec 2019 £959 £1229
29 Dec 2019 £1349 £1659
5 Jan 2020 £1189 £1369
12 Jan 2020 £949 £1299
19 Jan 2020 £1039 £1349
2 Feb 2020 £1079 £1369
9 Feb 2020 £1079 £1369
16 Feb 2020 £1139 £1429
8 Mar 2020 £1129 £1429
15 Mar 2020 £1139 £1439