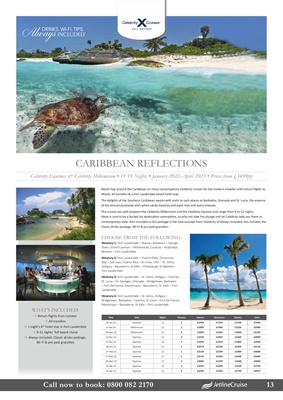 Call now to book: 0800 082 2170 13
CARIBBEAN REFLECTIONS
Celebrity Equinox & Celebrity Millennium • 11-13 Nights • January 2022-April 2023 • Prices from £1699pp
WHAT'S INCLUDED:
✥ Return flights from London
✥ All transfers
✥ 1 night's 4* hotel stay in Fort Lauderdale
✥ 9-11 nights' full board cruise
✥ Always Included: Classic drinks package,
Wi-Fi & pre paid gratuities
Beach hop around the Caribbean on these contemporary Celebrity cruises for the modern traveller with return flights to
Miami, all transfers & a Fort Lauderdale beach hotel stay.
The delights of the Southern Caribbean awaits with visits to such places as Barbados, Grenada and St. Lucia, the essence
of the picture postcards with white sandy beaches and palm tree and warm breezes.
The cruises are split between the Celebrity Millennium and the Celebrity Equinox and range from 9 to 12 nights,
there is sure to be a bucket list destination somewhere, so why not take the plunge and let Celebrity take you there in
contemporary style. Also included in this package is the new concept from Celebrity of Always Included, this includes the
classic drinks package, Wi-Fi & pre paid gratuities.
CHOOSE FROM THE FOLLOWING:
Itinerary 1: Fort Lauderdale - Nassau, Bahamas - George
Town, Grand Cayman - Williamstad, Curacoa - Krajendijk,
Bonaire - Fort Lauderdale
Itinerary 2: Fort Lauderdale - Puerto Plata, Dominican
Rep - San Juan, Puerto Rica - St Croix, USVI - St. Johns,
Antigua - Basseterre, St Kitts - Philipsburg, St Maarten -
Fort Lauderdale
Itinerary 3: Fort Lauderdale - St. Johns, Antigua - Castries,
St. Lucia - St. Georges, Grenada - Bridgetown, Barbados
- Fort De France, Martinique - Basseterre, St. Kitts - Fort
Lauderdale
Itinerary 4: Fort Lauderdale - St. Johns, Antigua -
Bridgetown, Barbados - Castries, St Lucia - Fort De France,
Martinique - Basseterre, St Kitts - Fort Lauderdale
Date Ship Nights Itinerary Interior Oceanview Balcony Suite
20 Jan 22 Equinox 11 1 £1699 £1759 £2339 £7049
6 Feb 22 Millennium 12 2 £1899 £1949 £2329 £5089
20 Mar 22 Millennium 12 2 £1899 £1959 £2299 £5229
11 Dec 22 Equinox 12 4 £1929 £2059 £2349 £3899
21 Dec 22 Equinox 13 3 £2399 £2529 £2969 £5099
20 Jan 23 Equinox 11 1 £2079 £2139 £2439 £4129
17 Feb 23 Equinox 11 1 £2139 £2199 £2499 £4089
17 Mar 23 Equinox 11 1 £2139 £2199 £2499 £4089
26 Mar 23 Equinox 12 4 £2089 £2199 £2499 £4049
14 Apr 23 Equinox 11 1 £2249 £2299 £2599 £3769
23 Apr 23 Equinox 12 4 £2199 £2329 £2799 £4479