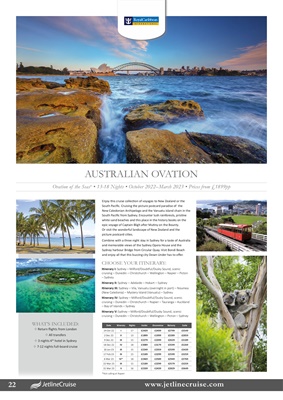 22
AUSTRALIAN OVATION
Ovation of the Seas® • 13-18 Nights • October 2022-March 2023 • Prices from £1899pp
WHAT'S INCLUDED:
✥ Return flights from London
✥ All transfers
✥ 3 nights 4* hotel in Sydney
✥ 7-12 nights full-board cruise
Enjoy this cruise collection of voyages to New Zealand or the
South Pacific. Cruising the picture postcard paradise of the
New Caledonian Archipelago and the Vanuatu island chain in the
South Pacific from Sydney. Encounter lush rainforests, pristine
white sand beaches and this place in the history books on the
epic voyage of Captain Bligh after Mutiny on the Bounty.
Or visit the wonderful landscape of New Zealand and the
picture postcard cities.
Combine with a three night stay in Sydney for a taste of Australia
and memorable views of the Sydney Opera House and the
Sydney harbour Bridge from Circular Quay. Visit Bondi Beach
and enjoy all that this buzzing city Down Under has to offer.
Date Itinerary Nights Inside Oceanview Balcony Suite
24 Oct 22 I 17 £2429 £2499 £2799 £3549
2 Dec 22 II 13 £1899 £1999 £2289 £2859
9 Dec 22 III 15 £2279 £2399 £2629 £3189
18 Dec 22 IV 18 £3089 £3179 £3599 £5269
10 Jan 23 III 15 £2249 £2359 £2599 £3439
17 Feb 23 III 15 £2189 £2299 £2599 £3259
6 Mar 23 IV* 18 £2469 £2589 £2949 £3769
22 Mar 23 III 15 £2189 £2299 £2579 £3259
31 Mar 23 V 16 £2339 £2439 £2829 £3649
*Not calling at Napier
CHOOSE YOUR ITINERARY:
Itinerary I: Sydney - Milford/Doubtful/Dusky Sound, scenic
cruising - Dunedin - Christchurch - Wellington - Napier - Picton
- Sydney
Itinerary II: Sydney - Adelaide - Hobart - Sydney
Itinerary III: Sydney - Vila, Vanuatu (overnight in port) - Noumea
(New Caledonia) - Mystery Island (Vanuatu) - Sydney
Itinerary IV: Sydney - Milford/Doubtful/Dusky Sound, scenic
cruising - Dunedin - Christchurch - Napier - Tauranga - Auckland
- Bay of Islands - Sydney
Itinerary V: Sydney - Milford/Doubtful/Dusky Sound, scenic
cruising - Dunedin - Christchurch - Wellington - Picton - Sydney