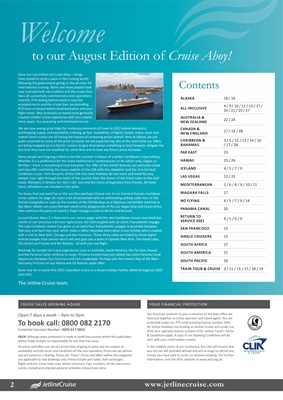 2 Open 7 days a week - 9am to 9pm
To book call: 0800 082 2170
Customer Services Number: 0203 617 5815
E&OE: Although every endeavour is made to avoid inaccuracies within this publication
Jetline Travel accepts no responsibility for any that may occur.
All prices and offers are correct at the time of going to press and are subject to
availability and the terms and conditions of the tour operators. Prices are per person
and are based on 2 sharing. Prices are "From". Prices and offers within this magazine
are applicable to new bookings only. Prices include port taxes, fuel surcharges,
flights and pre cruise hotel stays where necessary. Tips, transfers, drinks, excursions
(unless stated) and selected personal activities onboard are extra.
CRUISE SALES OPENING HOURS
Our brochure presents to you a selection of the best offers we
have put together as a tour operator and travel agent. You are
protected under our PTS retail bonding licence number 5593
for Jetline Holidays Ltd (trading as Jetline Cruise) and under our
ATOL tour operator licence number 6153. Jetline Travel's Terms
& Conditions apply. A copy of our Booking Conditions will be
sent with your confirmation invoice.
In the unlikely event of our insolvency, the CAA will ensure that
you are not left stranded abroad and will arrange to refund any
money you have paid to us for an advance booking. For further
information, visit the ATOL website at www.atol.org.uk.
YOUR FINANCIAL PROTECTION
Since our July Edition of Cruise Ahoy - things
have moved at quite a pace in the cruising world
following the government giving us the all-clear for
international cruising. More and more people have
now received both vaccinations and the cruise lines
have all successfully commenced cruise operations
recently. PCR testing before travel is now the
accepted norm and the cruise lines are providing
PCR tests on board before disembarkation and your
flight home. New protocols on board have generally
created a better cruise experience with less crowds,
more space, less queueing and enhanced service.
We are now seeing price hikes for numerous elements of travel in 2022 where demand is
outstripping supply and availability is drying up fast. Availability of flights, hotels, trains, tours and
indeed some cruises are all having the impact of increasing prices overall. Here at Jetline, we are
quite surprised by some of the price increases we are experiencing. But at the same time our offers
are being snapped up in a bid for cruisers to give themselves something to look forward, mitigate the
fact that they have not travelled for some time and to beat any future price increases.
Many people are forgoing a Med cruise this summer in favour of a winter Caribbean cruise holiday.
Whether it is a preference for the more traditional or contemporary or for adults only, singles or
families - there is something to suit everyone. Our offer of the month features our exclusive cruise
and stay offer combining the music capitals of the USA with the relaxation and fun of a Carnival
Caribbean cruise. Visit the parts of the USA that most holidays do not reach and travel by cosy
sleeper train right through the heart of the country from the shores of the Great Lakes to the Gulf
Coast. Memphis is famous for rock n roll, soul and the home of legendary Elvis Presley. All these
music attractions are included in the price.
For those that just want fun in the sun then perhaps choose one of our Carnival Horizon Caribbean
cruise options on page 16. Inject a bit of excitement with an exhilarating airboat safari tour in the
Florida Everglades or soak up the scenery of the Florida Keys on a fabulous convertible road trip to
Key West. Adults can enjoy the twin adults-only playgrounds of the Las Vegas Strip and Ocean Drive
then continue the party on board a Virgin Voyages cruise to Bimini and beyond.
Cunard Queen Mary 2 is featured in our centre pages with the new Caribbean season launched last
month or our exclusive train tour right across the USA coupled with an iconic Transatlantic Voyage.
The new Caribbean season has given us an extra four Transatlantic voyages to promote between
February and April next year which make a rather desirable alternative cruise holiday when coupled
with a visit to New York, Chicago and San Francisco. These three cities are linked by three nights'
Amtrak sleeper train service which will also give you a taste of Upstate New York, The Great Lakes,
The American Prairies and the Rockies - all with just one flight.
Bookings for bucket list cruise experiences such as Australia, South America, the Far East, Hawaii
and the Panama Canal continue to surge. Princess Cruises have just added two extra Panama Canal
departures between San Francisco and Fort Lauderdale. Perhaps join the newest ship of the fleet -
Discovery Princess on our Alaska and US Rockies super offer.
Book now for a hassle-free 2021 staycation cruise or a dream holiday further afield throughout 2022
and 2023.
The Jetline Cruise team.
to our August Edition of Cruise Ahoy!
Welcome
ALASKA 18 / 19
ALL-INCLUSIVE
4 / 9 / 10 / 11 / 13 / 17 /
19 / 21 / 25 / 27
AUSTRALIA &
NEW ZEALAND
22 / 24
CANADA &
NEW ENGLAND
17 / 19 / 28
CARIBBEAN &
BAHAMAS
3 / 5 / 12 / 13 / 14 / 16
/ 17 / 28
FAR EAST 23
HAWAII 25 / 26
ICELAND 4 / 5 / 7 / 9
LAS VEGAS 12 / 25
MEDITERRANEAN 5 / 6 / 8 / 9 / 10 / 11
NIAGARA FALLS 17
NO FLYING 4 / 5 / 7 / 9 / 14
PANAMA CANAL 20
RETURN TO
SERVICE 2021
4 / 5 / 6 / 9
SAN FRANCISCO 15
SINGLE CRUISERS 15
SOUTH AFRICA 27
SOUTH AMERICA 21
SOUTH PACIFIC 26
TRAIN TOUR & CRUISE 3 / 11 / 15 / 17 / 18 / 19
Contents