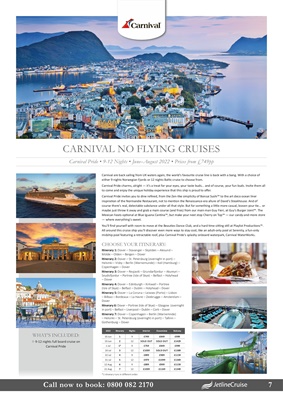 Call now to book: 0800 082 2170 7
WHAT'S INCLUDED:
✥ 9-12 nights full board cruise on
Carnival Pride
Carnival are back sailing from UK waters again, the world's favourite cruise line is back with a bang. With a choice of
either 9 nights Norwegian Fjords or 12 nights Baltic cruise to choose from.
Carnival Pride charms, alright - it's a treat for your eyes, your taste buds... and of course, your fun buds. Invite them all
to come and enjoy the unique holiday experience that this ship is proud to offer.
Carnival Pride invites you to dine refined, from the Zen-like simplicity of Bonsai Sushi™ to the art deco ocean liner
inspiration of the Normandie Restaurant, not to mention the Renaissance-era allure of David's Steakhouse. And of
course there's real, delectable substance under all that style. But for something a little more casual, loosen your tie... or
maybe just throw it away and grab a main course (and fries) from our main man Guy Fieri, at Guy's Burger Joint™. The
Mexican heats optional at Blue Iguana Cantina™, but make your next stop Cherry on Top™ - our candy-and-more store
- where everything's sweet.
You'll find yourself with room to move at the Beauties Dance Club, and a hard time sitting still at Playlist Productions™.
All around this cruise ship you'll discover even more ways to stay cool, like an adult-only pool at Serenity, a fun-only
midship pool featuring a retractable roof, plus Carnival Pride's splashy onboard waterpark, Carnival WaterWorks.
CARNIVAL NO FLYING CRUISES
Carnival Pride • 9-12 Nights • June-August 2022 • Prices from £749pp
2022 Itinerary Nights Interior Oceanview Balcony
10 Jun 1 9 £749 £849 £999
19 Jun 2 12 SOLD OUT SOLD OUT £1429
1 Jul 1* 9 £759 £849 £999
10 Jul 3 12 £1039 SOLD OUT £1389
22 Jul 4 9 £899 £989 £1159
31 Jul 5 12 £979 £1099 £1369
12 Aug 6 9 £899 £999 £1159
21 Aug 7 12 £1039 £1169 £1349
*1 itinerary runs in different order.
CHOOSE YOUR ITINERARY:
Itinerary 1: Dover - Stavanger - Skjolden - Alesund -
Molde - Olden - Bergen - Dover
Itinerary 2: Dover - St. Petersburg (overnight in port) -
Helsinki - Visby - Berlin (Warnemunde) - Keil (Hamburg) -
Copenhagen - Dover
Itinerary 3: Dover - Reyjavik - Grundarfjordur - Akureyri -
Seydisfjordur - Portree (Isle of Skye) - Belfast - Holyhead
- Dover
Itinerary 4: Dover - Edinburgh - Kirkwall - Portree
(Isle of Skye) - Belfast - Dublin - Holyhead - Dover
Itinerary 5: Dover - La Coruna - Leixoes (Porto) - Lisbon
- Bilbao - Bordeaux - La Havre - Zeebrugge - Amsterdam -
Dover
Itinerary 6: Dover - Portree (Isle of Skye) - Glasgow (overnight
in port) - Belfast - Liverpool - Dublin - Cork - Dover
Itinerary 7: Dover - Copenhagen - Berlin (Warnemnde)
- Helsinki - St. Petersburg (overnight in port) - Tallinn -
Gothenburg - Dover