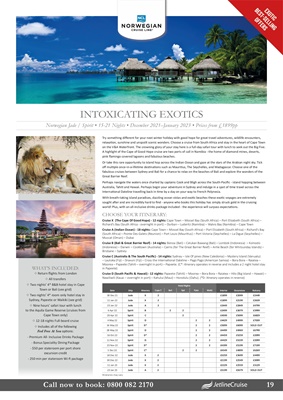 Call now to book: 0800 082 2170 19
INTOXICATING EXOTICS
Norwegian Jade / Spirit • 15-21 Nights • December 2021-January 2023 • Prices from £1899pp
Try something different for your next winter holiday with good hope for great travel adventures, wildlife encounters,
relaxation, sunshine and unspoilt scenic wonders. Choose a cruise from South Africa and stay in the heart of Cape Town
on the V&A Waterfront. The crowning glory of your stay here is a full-day safari tour with lunch to seek out the Big Five.
A highlight of the Cape of Good Hope cruise are two ports of call in Namibia - the home of diamond mines, deserts,
pink flamingo covered lagoons and fabulous beaches.
Or take this rare opportunity to island hop across the Indian Ocean and gaze at the stars of the Arabian night sky. Tick
off multiple once-in-a-lifetime destinations such as Mauritius, The Seychelles, and Madagascar. Choose one of the
fabulous cruises between Sydney and Bali for a chance to relax on the beaches of Bali and explore the wonders of the
Great Barrier Reef.
Perhaps navigate the waters once charted by captains Cook and Bligh across the South-Pacific - island hopping between
Australia, Tahiti and Hawaii. Perhaps begin your adventure in Sydney and indulge in a spot of time travel across the
International Dateline travelling back in time by a day on your way to French Polynesia.
With breath-taking island paradises, dazzling ocean vistas and exotic beaches these exotic voyages are extremely
sought after and are incredibly hard to find - anyone who books this holiday has simply struck gold in the cruising
world! Plus, with an all-inclusive drinks package included - the experience will surpass expectations.
Hotel Nights
Date Ship Itinerary Cape.T Bali Syd Ppte Waiki Interior Oceanview Balcony
30 Dec 21 Jade X 2 £1899 £2099 £2449
11 Jan 22 Jade X 2 £1899 £2199 £2639
23 Jan 22 Jade A 2 £2449 £2849 £4799
6 Apr 22 Spirit B 2 2 £2499 £3079 £3999
20 Apr 22 Spirit C 2 £4599 £5099 £6829
4 May 22 Spirit D 2 2 £4429 £4999 £7039
16 May 22 Spirit D* 2 2 £5099 £6099 SOLD OUT
28 May 22 Spirit D 2 2 £4499 £4969 £6799
16 Oct 22 Spirit D* 2 2 £4459 £5259 £2099
11 Nov 22 Spirit D 2 2 £4429 £5239 £2099
23 Nov 22 Spirit D* 2 2 £4399 £5199 £7199
5 Dec 22 Spirit C* 2 2 £4549 £4899 £6269
18 Dec 22 Jade X 2 £3259 £3699 £4499
30 Dec 22 Jade X 2 £2199 £2549 £3099
11 Jan 23 Jade X 2 £2229 £2559 £3129
23 Jan 23 Jade A 2 £3199 £3679 SOLD OUT
Itineraries may vary
CHOOSE YOUR ITINERARY:
Cruise X (The Cape Of Good Hope) - 12 nights: Cape Town - Mossel Bay (South Africa) - Port Elizabeth (South Africa) -
Richard's Bay (South Africa - overnight in port) - Durban - Luderitz (Namibia) - Walvis Bay (Namibia) - Cape Town
Cruise A (Indian Ocean) - 18 nights: Cape Town - Mossel Bay (South Africa) - Port Elizabeth (South Africa) - Richard's Bay
(South Africa) - Pointe Des Galets (Reunion) - Port Louis (Mauritius) - Port Victoria (Seychelles) - La Digue (Seychelles) -
Muscat (Oman) - Dubai
Cruise B (Bali & Great Barrier Reef) - 14 nights: Benoa (Bali) - Celukan Bawang (Bali) - Lombok (Indonesia) - Komodo
(Indonesia) - Darwin - Cooktown (Australia) - Cairns (for The Great Barrier Reef) - Airlie Beach (for Whitsunday Islands) -
Brisbane - Sydney
Cruise C (Australia & The South Pacific) - 14 nights: Sydney - Isle Of pines (New Caledonia) - Mystery Island (Vanuatu)
- Lautoka (Fiji) - Dravuni (Fiji) - Cross the International Dateline - Pago Pago (American Samoa) - Bora Bora - Raiatea -
Moorea - Papeete (Tahiti - overnight in port) - Papeete. (C*: itinerary operates in reverse and includes a 2 night hotel stay
in Papeete)
Cruise D (South Pacific & Hawaii) - 12 nights: Papeete (Tahiti) - Moorea - Bora Bora - Raiatea - Hilo (Big Island - Hawaii) -
Nawiliwili (Kauai - overnight in port) - Kahului (Maui) - Honolulu (Oahu). (*D: itinerary operates in reverse)
EXOTIC
BEST-SELLING
OFFERS WHAT'S INCLUDED:
✥ Return flights from London
✥ All transfers
✥ Two nights' 4* B&B hotel stay in Cape
Town or Bali (see grid)
✥ Two nights' 4* room only hotel stay in
Sydney, Papeete or Waikiki (see grid)
✥ Nine hours' safari tour with lunch
to the Aquila Game Reserve (cruises from
Cape Town only)
✥ 12-18 nights Full-board cruise
✥ Includes all of the following
Feel Free At Sea options:
- Premium All- Inclusive Drinks Package
- Bonus Speciality Dining Package
- $50 per stateroom per port shore
excursion credit
- 250 min per stateroom Wi-fi package