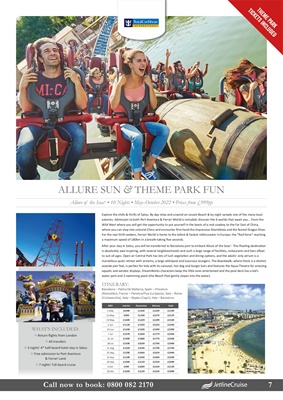 Call now to book: 0800 082 2170 7
ALLURE SUN & THEME PARK FUN
Allure of the Seas® • 10 Nights • May-October 2022 • Prices from £999pp
WHAT'S INCLUDED:
✥ Return flights from London
✥ All transfers
✥ 3 nights' 4* half-board hotel stay in Salou
✥ Free admission to Port Aventura
& Ferrari Land
✥ 7 nights' full-board cruise
Explore the chills & thrills of Salou. By day relax and unwind on Levant Beach & by night sample one of the many local
eateries. Admission to both Port Aventura & Ferrari World is included; discover the 6 worlds that await you... From the
Wild West where you will get the opportunity to put yourself in the boots of a real cowboy to the Far East of China,
where you can step into colonial China and encounter first-hand the impressive Shambhala and the feared Dragon Khan.
For the real thrill-seekers, Ferrari World is home to the tallest & fastest rollercoaster in Europe; the "Red force" reaching
a maximum speed of 180km in a breath-taking five seconds.
After your stay in Salou, you will be transferred to Barcelona port to embark Allure of the Seas®. This floating destination
is absolutely awe-inspiring, with several neighbourhoods and such a large range of facilities, restaurants and bars afloat
to suit all ages. Open air Central Park has lots of lush vegetation and dining options, and the adults' only atrium is a
marvellous quiet retreat with streams, a large whirlpool and luxurious loungers. The Boardwalk, where there is a distinct
seaside pier feel, is perfect for kids with its carousel, hot dog and burger bars and features the Aqua-Theatre for amazing
aquatic and aerobic displays. DreamWorks characters keep the little ones entertained and the pool deck has a kid's
water park and 3 swimming pools (the Beach Pool gently slopes into the water).
ITINERARY:
Barcelona - Palma De Mallorca, Spain - Provence
(Marseilles), France - Florence/Pisa (La Spezia), Italy - Rome
(Civitavecchia), Italy - Naples (Capri), Italy - Barcelona
2022 Interior Oceanview Balcony Suite
5 May £1099 £1239 £1299 £2199
12 May £999 £1199 £1279 £2179
19 May £1049 £1229 £1299 £2169
2 Jun £1129 £1259 £1359 £2249
23 Jun £1249 £1339 £1399 £2399
7 Jul £1479 £1629 £1779 £2439
21 Jul £1499 £1689 £1779 £2569
28 Jul £1439 £1639 £1769 £2449
11 Aug £1429 £1599 £1799 £2749
25 Aug £1299 £1469 £1629 £2449
15 Sep £1199 £1349 £1469 £2339
29 Sep £1049 £1129 £1259 £2099
6 Oct £999 £1099 £1249 £2139
20 Oct £1029 £1129 £1239 £2099
THEME PARK
TICKETS INCLUDED