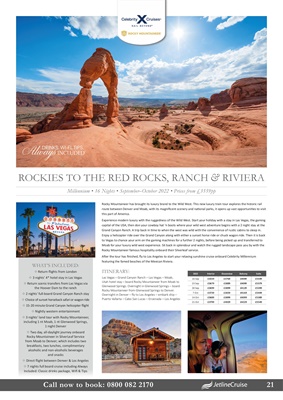 Call now to book: 0800 082 2170 21
ITINERARY:
Las Vegas - Grand Canyon Ranch - Las Vegas - Moab,
Utah hotel stay - board Rocky Mountaineer from Moab to
Glenwood Springs. Overnight in Glenwood Springs - board
Rocky Mountaineer from Glenwood Springs to Denver.
Overnight in Denver - fly to Los Angeles - embark ship -
Puerto Vallarta - Cabo San Lucas - Ensenada - Los Angeles
WHAT'S INCLUDED:
✥ Return flights from London
✥ 3 nights' 4* hotel stay in Las Vegas
✥ Return scenic transfers from Las Vegas via
the Hoover Dam to the ranch
✥ 2 nights' full-board Grand Canyon Ranch stay
✥ Choice of sunset horseback safari or wagon ride
✥ 15-20 minute Grand Canyon helicopter flight
✥ Nightly western entertainment
✥ 3 nights' land tour with Rocky Mountaineer,
including 1 nt Moab, 1 nt Glenwood Springs,
1 night Denver
✥ Two day, all-daylight journey onboard
Rocky Mountaineer in SilverLeaf Service
from Moab to Denver; which includes two
breakfasts, two lunches, complimentary
alcoholic and non-alcoholic beverages
and snacks
✥ Direct flight between Denver & Los Angeles
✥ 7 nights full board cruise including Always
Included: Classic drinks package, Wifi & Tips
Rocky Mountaineer has brought its luxury brand to the Wild West. This new luxury train tour explores the historic rail
route between Denver and Moab, with its magnificent scenery and national parks, it opens up vast opportunities to visit
this part of America.
Experience modern luxury with the ruggedness of the Wild West. Start your holiday with a stay in Las Vegas, the gaming
capital of the USA, then don your cowboy hat 'n boots where your wild west adventure begins with a 2 night stay at the
Grand Canyon Ranch. A trip back in time to when the west was wild with the convenience of rustic cabins to sleep in.
Enjoy a helicopter ride over the Grand Canyon along with either a sunset horse ride or chuck wagon ride. Then it is back
to Vegas to chance your arm on the gaming machines for a further 2 nights, before being picked up and transferred to
Moab for your luxury wild west experience. Sit back in splendour and watch the rugged landscape pass you by with the
Rocky Mountaineer famous hospitality onboard their Silverleaf service.
After the tour has finished, fly to Los Angeles to start your relaxing sunshine cruise onboard Celebrity Millennium
featuring the famed beaches of the Mexican Riviera.
ROCKIES TO THE RED ROCKS, RANCH & RIVIERA
Millennium • 16 Nights • September-October 2022 • Prices from £3559pp
2022 Interior Oceanview Balcony Suite
16 Sep £3559 £3769 £4099 £5599
23 Sep £3679 £3889 £4099 £5379
30 Sep £3699 £3899 £4129 £5399
7 Oct £3739 £3659 £4169 £5449
14 Oct £3689 £3899 £4099 £5389
21 Oct £3799 £4029 £4229 £5549