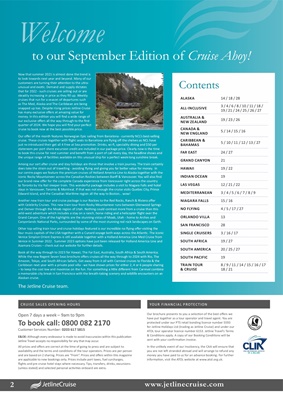 2 Open 7 days a week - 9am to 9pm
To book call: 0800 082 2170
Customer Services Number: 0203 617 5815
E&OE: Although every endeavour is made to avoid inaccuracies within this publication
Jetline Travel accepts no responsibility for any that may occur.
All prices and offers are correct at the time of going to press and are subject to
availability and the terms and conditions of the tour operators. Prices are per person
and are based on 2 sharing. Prices are "From". Prices and offers within this magazine
are applicable to new bookings only. Prices include port taxes, fuel surcharges,
flights and pre cruise hotel stays where necessary. Tips, transfers, drinks, excursions
(unless stated) and selected personal activities onboard are extra.
CRUISE SALES OPENING HOURS
Our brochure presents to you a selection of the best offers we
have put together as a tour operator and travel agent. You are
protected under our PTS retail bonding licence number 5593
for Jetline Holidays Ltd (trading as Jetline Cruise) and under our
ATOL tour operator licence number 6153. Jetline Travel's Terms
& Conditions apply. A copy of our Booking Conditions will be
sent with your confirmation invoice.
In the unlikely event of our insolvency, the CAA will ensure that
you are not left stranded abroad and will arrange to refund any
money you have paid to us for an advance booking. For further
information, visit the ATOL website at www.atol.org.uk.
YOUR FINANCIAL PROTECTION
Now that summer 2021 is almost done the trend is
to look towards next year and beyond. Many of our
customers are turning their attention to the ultraunusual and exotic.
Demand and supply dictates
that for 2022 - such cruises are selling out or are
steadily increasing in price as they fill up. Weekly
cruises that run for a season of departures such
as The Med, Alaska and The Caribbean are being
snapped up too. Despite rising prices Jetline Cruise
has many exclusive offers at amazing value for
money. In this edition you will find a wide range of
our exclusive offers all the way through to the first
quarter of 2024. We hope you will find your perfect
cruise to book now at the best possible price.
Our offer of the month features Norwegian Epic sailing from Barcelona - currently NCL's best-selling
cruise. These cruises together with flight seats to Barcelona are flying off the shelves as NCL have
just re-introduced their get all 4 Free at Sea promotion. Drinks, wi-fi, speciality dining and $50 per
stateroom per port shore excursion credit are included in our package price. Clearly now is the time
to book this cruise for next summer and benefit from a port of call every day, the headline shows and
the unique range of facilities available on this unusual ship for a perfect week-long sunshine break.
Among our sort after cruise and stay holidays are those that involve a train journey. The train certainly
does take the strain out of travelling - avoiding flying and giving you far better value for money. In
our centre pages we feature the premium cruises of Holland America Line to Alaska together with the
iconic Rocky Mountaineer across the Canadian Rockies between Banff & Vancouver. You will also find
our brand-new offer for the complete Canada experience from Vancouver right across the country
to Toronto by Via Rail sleeper train. This wonderful package includes a visit to Niagara Falls and hotel
stays in Vancouver, Toronto & Montreal. If that was not enough the cruise visits Quebec City, Prince
Edward Island, and the Canadian Maritime region all the way to Boston… wow!
Another new train tour and cruise package is our Rockies to the Red Rocks, Ranch & Riviera offer
with Celebrity Cruises. This new train tour from Rocky Mountaineer runs between Glenwood Springs
and Denver through the Moab region of Utah. Nothing could contrast more from a cruise than this
wild-west adventure which includes a stay on a ranch, horse riding and a helicopter flight over the
Grand Canyon. One of the highlights are the stunning vistas of Moab, Utah - home to Arches and
Canyonlands National Parks, surrounded by some of the most stunning red rock landscapes on Earth.
Other top selling train tour and cruise holidays featured is our incredible no flying offer visiting the
four music capitals of the USA together with a Cunard voyage both ways across the Atlantic. The iconic
Venice Simplon Orient Express is still available together with a Holland America Line Med Cruise from
Venice in Summer 2022. Summer 2023 options have just been released for Holland America Line and
Azamara Cruises - check out our website for further details.
Book all the way through to 2023 for Hawaii, The Far East, Australia, South Africa & South America.
While the new Regent Seven Seas brochure offers cruises all the way through to 2024 with Rio, The
Amazon, Tokyo, and South African Safaris. Get away from it all with Carnival cruises to Florida & the
Caribbean next year with a private pool villa - we have shown prices for either 2, 4 or 6 people sharing
- to keep the cost low and maximise on the fun. For something a little different from Carnival combine
a memorable city break in San Francisco with the breath-taking scenery and wildlife encounters on an
Alaskan cruise.
The Jetline Cruise team.
to our September Edition of Cruise Ahoy!
Welcome
ALASKA 14 / 18 / 28
ALL-INCLUSIVE
3 / 4 / 6 / 8 / 10 / 11 / 18 /
19 / 21 / 24 / 25 / 26 / 27
AUSTRALIA &
NEW ZEALAND
19 / 23 / 26
CANADA &
NEW ENGLAND
5 / 14 / 15 / 16
CARIBBEAN &
BAHAMAS
5 / 10 / 11 / 12 / 13 / 27
FAR EAST 24 / 27
GRAND CANYON 21
HAWAII 19 / 22
INDIAN OCEAN 19
LAS VEGAS 12 / 21 / 22
MEDITERRANEAN 3 / 4 / 5 / 6 / 7 / 8 / 9
NIAGARA FALLS 15 / 16
NO FLYING 4 / 5 / 17 / 27
ORLANDO VILLA 13
SAN FRANCISCO 28
SINGLE CRUISERS 3 / 16 / 17
SOUTH AFRICA 19 / 27
SOUTH AMERICA 20 / 25 / 27
SOUTH PACIFIC 19
TRAIN TOUR
& CRUISE
8 / 9 / 11 / 14 / 15 / 16 / 17
18 / 21
Contents