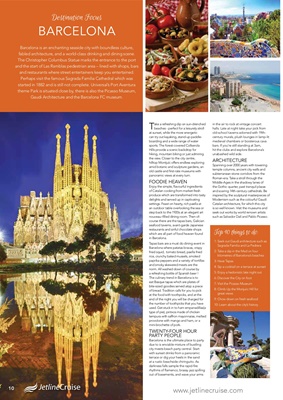 T
ake a refreshing dip on sun-drenched
beaches - perfect for a leisurely stroll
at sunset, while the more energetic
can try out kayaking, stand-up paddleboarding
and a wide range of water
sports. The forest-covered Collserola
Hills provide a scenic backdrop for
hiking, mountain biking or just admiring
the view. Closer to the city centre,
hilltop Montjuïc offers endless exploring
amid botanic and sculpture gardens, an
old castle and first-rate museums with
panoramic views at every turn.
FOODIE HEAVEN
Enjoy the simple, flavourful ingredients
of Catalan cooking from market-fresh
produce which are transformed into tasty
delights and served up in captivating
settings. Feast on hearty, rich paella at
an outdoor table overlooking the sea or
step back to the 1920s at an elegant art
nouveau-filled dining room. Then ofcourse there
are the tapas bars, Galician
seafood taverns, avant-garde Japanese
restaurants and sinful chocolate shops
which are all part of food heaven found
in Barcelona.
Tapas bars are a must do dining event in
Barcelona where patatas bravas, crispy
fried squid, tomato bread, paella fried
rice, crunchy baked mussels, smoked
paprika peppers and a variety of tortillas
and smoky skewered meats are the
norm. All washed down of course by
a refreshing bottle of Spanish beer !
The culinary trend in Barcelona is to
eat Basque tapas which are plates of
bite-sized goodies served atop a piece
of bread. Tradition calls for you to pick
at the food with toothpicks, and at the
end of the night you will be charged for
the number of toothpicks that you have
used. Get stuck in to ham empanadillas(a
type of pie), pintxos made of chicken
tempura with saffron mayonnaise, melted
provolone with mango and ham, or a
mini-brochette of pork.
TWENTY-FOUR HOUR
PARTY PEOPLE
Barcelona is the ultimate place to party
due to is enviable mixture of bustling
city meets beach party central. Start
with sunset drinks from a panoramic
terrace or dig your heels in the sand
at a rustic beachside chiringuito. As
darkness falls sample the rapid-fire
rhythms of flamenco, brassy jazz spilling
out of basements, and wave your arms
in the air to rock at vintage concert
halls. Late at night take your pick from
old-school taverns adorned with 19thcentury murals, plush lounges in lamp-lit
medieval chambers or boisterous cava
bars. If you're still standing at 3am,
hit the clubs and explore Barcelona's
unabashed wild side.
ARCHITECTURE
Spanning over 2000 years with towering
temple columns, ancient city walls and
subterranean stone corridors from the
Roman-era. Take a stroll through the
Middle-Ages in the shadowy lanes of
the Gothic quarter, past tranquil plazas
and soaring 14th-century cathedrals. Be
inspired by the sculptural masterpieces of
Modernism such as the colourful Gaudí
Catalan architecture, for which this city
is so well known. Visit the museums and
seek out works by world renown artists
such as Salvador Dalí and Pablo Picasso.
Destination Focus
BARCELONA
Barcelona is an enchanting seaside city with boundless culture,
fabled architecture, and a world-class drinking and dining scene.
The Christopher Columbus Statue marks the entrance to the port
and the start of Las Ramblas pedestrian area - lined with shops, bars
and restaurants where street entertainers keep you entertained.
Perhaps visit the famous Sagrada Familia Cathedral which was
started in 1882 and is still not complete. Universal's Port Aventura
theme Park is situated close by, there is also the Picasso Museum,
Gaudi Architecture and the Barcelona FC museum.
10
Top 10 things to do:
1: Seek out Gaudi architecture such as
Sagrada Familia and La Pedrera
2: Take a dip in the Med on four
kilometres of Barcelona's beaches
3: Have Tapas
4: Sip a cocktail on a terrace at sunset
5: Enjoy a hedonistic late night out
6: Discover the City on foot
7: Visit the Picasso Museum
8: Climb Up the Monjuiic Hill for
great views
9: Chow down on fresh seafood
10: Learn about the city's history.