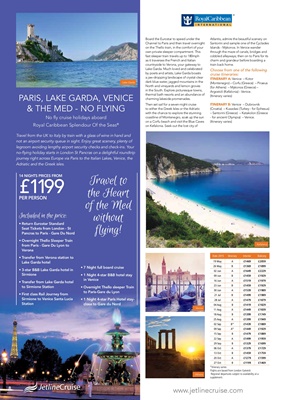 Board the Eurostar to speed under the
Channel to Paris and then travel overnight
on the Thello train, in the comfort of your
own private sleeper compartment. This
fast sleeper train travels up to 180mph
as it traverses the French and Italian
countryside to Verona, your gateway to
Lake Garda. Much loved and celebrated
by poets and artists, Lake Garda boasts
a jaw-dropping landscape of crystal-clear
dark blue water, jagged mountains in the
North and vineyards and lemon groves
in the South. Explore picturesque towns,
thermal bath resorts and an abundance of
charming lakeside promenades.
Then set sail for a seven-night cruise
to either the Greek Isles or the Adriatic
with the chance to explore the stunning
coastline of Montenegro, soak up the sun
on a Corfu beach and visit the Blue Caves
on Kefalonia. Seek out the lost city of
Date 2015 Itinerary Interior Balcony
19 May A £1469 £2059
26 May B £1369 £1899
02 Jun A £1649 £2229
09 Jun B £1459 £1929
16 Jun A £1519 £1979
23 Jun B £1459 £1929
30 Jun A £1539 £1989
21 Jul B £1499 £1989
28 Jul A £1479 £1879
04 Aug B £1419 £1829
11 Aug A £1449 £1839
18 Aug B £1399 £1749
25 Aug A £1399 £1949
02 Sep B* £1439 £1889
09 Sep A* £1449 £1929
15 Sep B £1479 £1889
22 Sep A £1499 £1959
29 Sep B £1329 £1699
06 Oct A £1379 £1729
13 Oct B £1459 £1759
20 Oct A £1279 £1599
27 Oct B £1199 £1469
*Itinerary varies
Flights are based from London Gatwick
Regional departures subject to availability at a
supplement.
PARIS, LAKE GARDA, VENICE
& THE MED - NO FLYING
No fly cruise holidays aboard
Royal Caribbean Splendour Of the Seas®
Travel from the UK to Italy by train with a glass of wine in hand and
not an airport security queue in sight. Enjoy great scenery, plenty of
legroom avoiding lengthy airport security checks and check-ins. Your
no-flying holiday starts in London St Pancras on a delightful roundtrip
journey right across Europe via Paris to the Italian Lakes, Venice, the
Adriatic and the Greek isles.
Atlantis, admire the beautiful scenery on
Santorini and sample one of the Cyclades
Islands - Mykonos. In Venice wander
through the maze of canals, bridges and
cobbled alleyways; then on to Paris for its
charm and grandeur before boarding a
train back home.
Choose from one of the following
cruise itineraries:
ITINERARY A: Venice - Kotor
(Montenegro) - Corfu (Greece) - Piraeus
(for Athens) - Mykonos (Greece) -
Argostoli (Kefalonia) - Venice.
(Itinerary varies)
ITINERARY B: Venice - Dubrovnik
(Croatia) - Kusadasi (Turkey - for Ephesus)
- Santorini (Greece) - Katakolon (Greece
- for ancient Olympia) - Venice.
(Itinerary varies)
Included in the price:
• Return Eurostar Standard
Seat Tickets from London - St
Pancras to Paris - Gare Du Nord
• Overnight Thello Sleeper Train
from Paris - Gare Du Lyon to
Verona
• Transfer from Verona station to
Lake Garda hotel
• 3-star B&B Lake Garda hotel in
Sirmione
• Transfer from Lake Garda hotel
to Sirmione Station
• First class Rail Journey from
Sirmione to Venice Santa Lucia
Station
14 NIGHTS PRICES FROM
£1199PER PERSON
8
Lake Garda
Kefalonia
Athens
Travel to
the Heart
of the Med
without
flying!
Venice
• 7 Night full board cruise
• 1 Night 4-star B&B hotel stay
in Venice
• Overnight Thello sleeper Train
to Paris-Gare du Lyon
• 1 Night 4-star Paris Hotel stay-
close to Gare du Nord