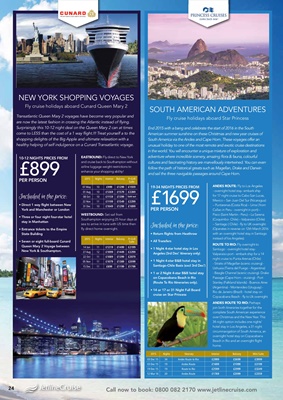 NEW YORK SHOPPING VOYAGES
Fly cruise holidays aboard Cunard Queen Mary 2
Transatlantic Queen Mary 2 voyages have become very popular and
are now the latest fashion in crossing the Atlantic instead of flying.
Surprisingly this 10-12 night deal on the Queen Mary 2 can at times
come to LESS than the cost of a 1 way flight.!!! Treat yourself a to the
shopping delights of the Big Apple and ultimate relaxation with a
healthy helping of self indulgence on a Cunard Transatlantic voyage.
Included in the price:
• Direct 1 way flight between New
York and Manchester or London
• Three or four night four-star hotel
stay in Manhattan
• Entrance tickets to the Empire
State Building
• Seven or eight full-board Cunard
Queen Mary 2 Voyage between
New York & Southampton.
10-12 NIGHTS PRICES FROM
£899PER PERSON
EASTBOUND: Fly direct to New York
and cruise back to Southampton without
airline luggage weight restrictions to
enhance your shopping ability!
2015 Nights Interior Balcony Pr Grill
Suite
07 May 10 £999 £1299 £1939
01 Aug 10 £1269 £1579 £2289
08 Oct 10 £1159 £1399 Sold out
22 Nov 11 £1199 £1549 £2299
31 Dec 10 £1049 £1299 £1899
WESTBOUND: Set sail from
Southampton enjoying 25 hour days at
sea to arrive in tune with US time then
fly direct home overnight.
2015 Nights Interior Balcony Pr Grill
Suite
14 Jun 11 £1219 £1499 £2199
27 Aug 12 £1099 £1449 £2299
22 Oct 11 £1089 £1399 £2079
05 Nov 11 £1079 £1389 £2099
15 Dec 11 £899 £1199 £1799
SOUTH AMERICAN ADVENTURES
Fly cruise holidays aboard Star Princess
End 2015 with a bang and celebrate the start of 2016 in the South
American summer sunshine on these Christmas and new year cruises of
South America via the Andes and Cape Horn. These voyages offer an
unusual holiday to one of the most remote and exotic cruise destinations
in the world. You will encounter a unique mixture of exploration and
adventure where incredible scenery, amazing flora & fauna, colourful
cultures and fascinating history are marvellously intertwined. You can even
follow the path of historical greats such as Magellan, Drake and Darwin
and sail the three navigable passages around Cape Horn.
Included in the price:
• Return flights from Heathrow
• All Transfers
• 1 Night 4-star hotel stay in Los
Angeles (3rd Dec' itinerary only)
• 1 Night 4-star B&B hotel stay in
Santiago-Chile Basis (excl 3rd Dec')
• 1 or 2 Night 4-star B&B hotel stay
on Copacobana Beach in Rio
(Route To Rio Itineraries only).
• 14 or 17 or 31 Night Full Board
cruise on Star Princess
19-34 NIGHTS PRICES FROM
£1699PER PERSON
ANDES ROUTE: Fly to Los Angeles
- overnight hotel stay- embark ship
for 17 night cruise to Cabo San Lucas,
Mexico - San Juan Del Sur (Nicaragua)
- Puntarenas (Costa Rica) - Lima ( from
Callao in Peru - overnight in port) -
Pisco (Saint Martin - Peru) - La Serena
(Coquimbo- Chile) - Valparaiso (Chile)
- Santiago ( Chile) - fly to UK overnight.
(Operates in reverse on 12th March 2016
with an overnight hotel stay in Santiago
instead of los Angeles).
ROUTE TO RIO: Fly overnight to
Santiago - overnight hotel stay-
Valparaiso port - embark ship for a 14
night cruise to Punta Arenas (Chile)
- Straits of Magellan (scenic cruising) -
Ushuaia (Tierra del Fuego - Argentina)
- Beagle Channel (scenic cruising)- Drake
Passage (Cape Horn - cruising) - Port
Stanley (Falkland Islands) - Buenos Aires
(Argentina) - Montevideo (Uruguay) -
Rio de Janeiro (Brazil) - hotel stay on
Copacabana Beach - fly to Uk overnight.
ANDES ROUTE TO RIO: Perhaps
join both itineraries together for the
complete South American experience
over Christmas and the New Year. This
34 night option includes one nights'
hotel stay in Los Angeles, a 31 night
circumnavigation of South America, an
overnight hotel stay on Copacabana
Beach in Rio and an overnight flight
home.
Call now to book: 0800 082 2170 www.jetlinecruise.com
24
2015 Nights Itinerary Interior Balcony Mini Suite
03 Dec 15 34 Andes Route to Rio £2999 £3699 £3999
03 Dec 15 19 Andes Route £1699 £1999 £2199
19 Dec 15 19 Route to Rio £2599 £2999 £3249
12 Mar 16 20 Andes Route £1769 £2099 £2359