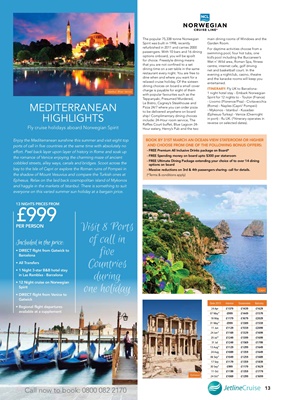 MEDITERRANEAN
HIGHLIGHTS
Fly cruise holidays aboard Norwegian Spirit
Enjoy the Mediterranean sunshine this summer and visit eight top
ports of call in five countries at the same time with absolutely no
effort. Peel back layer upon layer of history in Rome and soak up
the romance of Venice enjoying the charming maze of ancient
cobbled streets, alley ways, canals and bridges. Scoot across the
bay to the Isle of Capri or explore the Roman ruins of Pompeii in
the shadow of Mount Vesuvius and compare the Turkish ones at
Ephesus. Relax on the laid back cosmopolitan island of Mykonos
and haggle in the markets of Istanbul. There is something to suit
everyone on this varied summer sun holiday at a bargain price.
Included in the price:
• DIRECT flight from Gatwick to
Barcelona
• All Transfers
• 1 Night 3-star B&B hotel stay
in Las Ramblas - Barcelona
• 12 Night cruise on Norwegian
Spirit
• DIRECT flight from Venice to
Gatwick
• Regional flight departures
available at a supplement
13 NIGHTS PRICES FROM
£999PER PERSON
The popular 75,338 tonne Norwegian
Spirit was built in 1998, recently
refurbished in 2011 and carries 2000
passengers. With 10 bars and 16 dining
options onboard, you will be spoilt
for choice. Freestyle dining means
that you are not confined to a set
dining time on a set table in the same
restaurant every night. You are free to
dine when and where you want for a
relaxed cruise holiday. Of the sixteen
dining choices on board a small cover
charge is payable for eight of them
with popular favourites such as the
Teppanyaki, Presumed Murdered,
Le Bistro, Cagney's Steakhouse and
Pizza 24/7 where you can order pizza
to be delivered anywhere on board
ship! Complimentary dining choices
include: 24-Hour room service, The
Raffles Court buffet, Blue Lagoon 24-
Hour eatery, Henry's Pub and the two
main dining rooms of Windows and the
Garden Room.
For daytime activities choose from a
swimming pool, four hot tubs, one
kid's pool including the Buccaneer's
Wet n' Wild area, Roman Spa, fitness
centre, internet cafe, golf driving
net and basketball court. In the
evening a nightclub, casino, theatre
and the karaoke rooms will keep you
entertained.
ITINERARY: Fly UK to Barcelona-
1 night hotel stay - Embark Norwegian
Spirit for 12 nights to - Toulon (France)
- Livorno (Florence/Pisa) - Civitavecchia
(Rome) - Naples (Capri/ Pompeii)
- Mykonos - Istanbul - Kusadasi
(Ephesus-Turkey) - Venice (Overnight
in port) - flu UK. (*Itinerary operates in
reverse on selected dates).
13
Call now to book: 0800 082 2170
Istanbul. Blow: Venice
Visit 8 Ports
of call in
five
Countries
during
one holiday
Ephesus
Capri
BOOK BY 31ST MARCH AN OCEAN-VIEW STATEROOM OR HIGHER
AND CHOOSE FROM ONE OF THE FOLLOWING BONUS OFFERS:
- FREE Premium All Inclusive Drinks package on Board*
- FREE Spending money on board upto $300 per stateroom
- FREE Ultimate Dining Package extending your choice of to over 14 dining
options on board
- Massive reductions on 3rd & 4th passengers sharing- call for details.
(*Terms & conditions apply)
Date 2015 Interior Oceanview Balcony
24 Apr £1379 £1439 £1629
07 May* £999 £1449 £1579
18 May £1179 £1679 £2029
31 May* £999 £1389 £1559
11 Jun £1129 £1559 £2099
24 Jun* £1169 £1329 £1699
20 Jul* £1249 £1399 £1699
31 Jul £1249 £1569 £1799
13 Aug* £1129 £1299 £1649
24 Aug £1089 £1359 £1649
06 Sep* £1049 £1259 £1689
17 Sep £1179 £1359 £1839
30 Sep* £999 £1179 £1629
11 Oct £1199 £1359 £1779
24 Oct* £1069 £1299 £1699