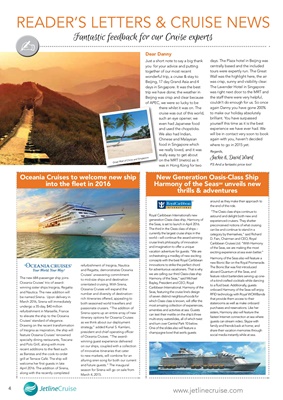 4 READER'S LETTERS & CRUISE NEWS
Fantastic feedback for our Cruise experts
Dear Danny
Just a short note to say a big thank
you for your advice and putting
together of our most recent
wonderful trip, a cruise & stay to
Beijing, 17 day Grand Asia and 4
days in Singapore. It was the best
trip we have done; the weather in
Beijing was crisp and clear because
of APEC, we were so lucky to be
there whilst it was on. The
cruise was out of this world,
such an eye opener; we
even had Japanese food
and used the chopsticks.
We also had Indian,
Chinese and Malaysian
food in Singapore which
we really loved, and it was
really easy to get about
on the MRT (metro) as it
was in Hong Kong for two
days. The Plaza hotel in Beijing was
centrally based and the included
tours were expertly run. The Great
Wall was the highlight here, the air
was crisp, sunny and visibility clear.
The Lavender Hotel in Singapore
was right next door to the MRT and
the staff there were very helpful,
couldn't do enough for us. So once
again Danny you have gone 200%
to make our holiday absolutely
brilliant. You have surpassed
yourself this time as it is the best
experience we have ever had. We
will be in contact very soon to book
again with you, haven't decided
where to go in 2015 yet.
Regards,
Jackie & David Ward
P.S And a fantastic price too!
Great Wall of China and Singapore
Oceania Cruises to welcome new ship
into the fleet in 2016
The new 684-passenger ship joins
Oceania Cruises' trio of awardwinning sister ships Insignia, Regatta
and Nautica. The new addition will
be named Sirena. Upon delivery in
March 2016, Sirena will immediately
undergo a 35-day, $40 million
refurbishment in Marseille, France
to elevate the ship to the Oceania
Cruises' standard of elegance.
Drawing on the recent transformation
of Insignia as inspiration, the ship will
feature Oceania Cruises' renowned
specialty dining restaurants, Toscana
and Polo Grill, along with more
recent additions to the fleet such
as Baristas and the cook-to-order
grill at Terrace Café. The ship will
welcome her first guests in late
April 2016. The addition of Sirena,
along with the recently completed
New Generation Oasis-Class Ship
Harmony of the SeasSM unveils new
thrills & adventures
Royal Caribbean International's new
generation Oasis-class ship, Harmony of
the Seas, is set to launch in April 2016.
The third in the Oasis class of ships -
currently the largest cruise ships in the
world - will continue the award-winning
cruise line's philosophy of innovation
and imagination to offer a unique
vacation adventure for guests. "We are
orchestrating a medley of new exciting
concepts with the best Royal Caribbean
innovations to strike the perfect chord
for adventurous vacationers. That is why
we are calling our third Oasis-class ship
Harmony of the Seas," said Michael
Bayley, President and CEO, Royal
Caribbean International. Harmony of the
Seas, featuring the cruise line's design
of seven distinct neighbourhoods for
which Oasis class is known, will offer the
most amazing collection of experiences,
amenities and activities at sea. Guests
can test their mettle on the ship's three
multi-story waterslides, all of which twist
and turn over Central Park 10 below.
One of the slides also will feature a
champagne bowl that swirls guests
around as they make their approach to
the end of the ride.
"The Oasis class ships continue to
astound and delight both new and
experienced cruisers. They shatter
preconceived notions of what cruising
can be and continue to stand in a
category by themselves," said Richard
D. Fain, Chairman and CEO, Royal
Caribbean Cruises Ltd. "With Harmony
of the Seas, we are making the most
exciting experience at sea even better."
Harmony of the Seas also will feature a
new Bionic Bar on the Royal Promenade.
The Bionic Bar was first introduced
aboard Quantum of the Seas, and
feature robot bartenders serving up oneof-a-kind crafted cocktails while dancing
to a fluid beat. Additionally, guests
onboard Harmony of the Seas will enjoy
RFID technology with Royal WOWBands
that provide them access to their
staterooms as well as make onboard
purchases and reservations. Like her
sisters, Harmony also will feature the
fastest Internet connection at sea where
guests can stream video; Skype with
family and friends back at home; and
share their vacation memories through
social media instantly while at sea.
refurbishment of Insignia, Nautica
and Regatta, demonstrates Oceania
Cruises' unwavering commitment
to mid-size ships and destination
orientated cruising. With Sirena,
Oceania Cruises will expand the
number and diversity of destinationrich itineraries offered,
appealing to
both seasoned world travellers and
passionate cruisers. "The addition of
Sirena opens up an entire array of new
itinerary options for Oceania Cruises
as we think about our deployment
strategy," added Kunal S. Kamlani,
president and chief operating officer
of Oceania Cruises. "The awardwinning guest experience delivered
on our ships, coupled with a collection
of innovative itineraries that cater
to new markets, will combine for an
alluring siren song for both our current
and future guests." The inaugural
season for Sirena will go on sale from
March 4, 2015.