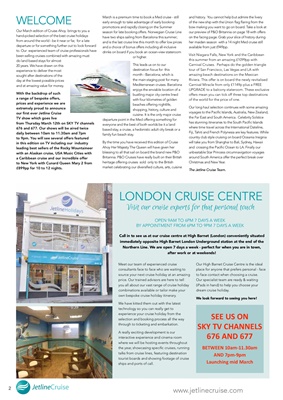 Call in to see us at our cruise centre at High Barnet (London) conveniently situated
immediately opposite High Barnet London Underground station at the end of the
Northern Line. We are open 7 days a week - perfect for when you are in town,
after work or at weekends!
Meet our team of experienced cruise
consultants face to face who are waiting to
source your next cruise holiday at an amazing
price. Our trained advisors are here to tell
you all about our vast range of cruise holiday
combinations available or tailor make your
own bespoke cruise holiday itinerary.
We have kitted them out with the latest
technology so you can really get to
experience your cruise holiday from the
selection and booking process all the way
through to ticketing and embarkation.
A really exciting development is our
interactive experience and cinema room
where we will be hosting events throughout
the year, showcasing specific cruises, running
talks from cruise lines, featuring destination
tourist boards and showing footage of cruise
ships and ports of call.
Our High Barnet Cruise Centre is the ideal
place for anyone that prefers personal - face
to face contact when choosing a cruise.
Our specialist team are ready & waiting
(iPads in hand) to help you choose your
dream cruise holiday.
We look forward to seeing you here!
OPEN 9AM TO 6PM 7 DAYS A WEEK
BY APPOINTMENT FROM 6PM TO 9PM 7 DAYS A WEEK
LONDON CRUISE CENTRE
Visit our cruise experts for that personal touch
WELCOME
Our March edition of Cruise Ahoy brings to you a
hand-picked selection of the best cruise holidays
from around the world - be it near or far, for a late
departure or for something further out to look forward
to. Our experienced team of cruise professionals have
been selling cruises combined with amazing must
do land based stays for almost
20 years. We have drawn on this
experience to deliver the most
sought after destinations of the
day at the lowest possible prices
and at amazing value for money.
With the backdrop of such
a range of bespoke offers,
prices and experience we are
extremely proud to announce
our first ever Jetline Cruise
TV show which goes live
from Thursday March 12th on SKY TV channels
676 and 677. Our shows will be aired twice
daily between 10am to 11.30am and 7pm
to 9pm. You will see several offers featured
in this edition on TV including our industry
leading best sellers of the Rocky Mountaineer
with an Alaskan cruise, USA Music Cities with
a Caribbean cruise and our incredible offer
to New York with Cunard Queen Mary 2 from
£899pp for 10 to 12 nights.
March is a premium time to book a Med cruise - still
early enough to take advantage of early booking
promotions and rapidly closing on the Summer
season for late booking offers. Norwegian Cruise Line
have two ships sailing from Barcelona this summer;
and is the last cruise line this month to offer low prices
and a choice of bonus offers including all-inclusive
drinks on board if you book an ocean-view stateroom
or higher.
This leads us on to our
destination focus for this
month - Barcelona; which is
the main staging post for many
Mediterranean cruises. Barcelona
enjoys the enviable location of a
bustling major city centre lined
with four kilometres of golden
beaches offering nightlife,
shopping, history, culture and
cuisine. It is the only major cruise
departure point in the Med offering something for
everyone and the best of both worlds be it a land
based stay, a cruise, a hedonistic adult city break or a
family fun beach stay.
By the time you have received this edition of Cruise
Ahoy Her Majesty The Queen will have given her
blessing to all that sail on board the brand new P&O
Britannia. P&O Cruises have really built on their British
heritage offering cruises sold only to the British
market celebrating our diversified culture, arts, cuisine
and history. You cannot help but admire the livery
of the new ship with the Union flag flaring from the
bow making you want to go on board. Take a look at
our preview of P&O Britannia on page 18 with offers
on the facing page. Grab your slice of history during
her maiden season with a 14 night Med cruise still
available from just £949pp.
Visit Niagara Falls, New York and the Caribbean
this summer from an amazing £1099pp with
Carnival Cruises. Perhaps do the golden triangle
tour of San Francisco, Las Vegas and LA with
amazing beach destinations on the Mexican
Riviera. This offer is on board the newly revitalised
Carnival Miracle from only £1149p plus a FREE
UPGRADE to a balcony stateroom. These exclusive
offers mean you can tick off three top destinations
of the world for the price of one.
Our long haul selection continues with some amazing
voyages to the Pacific Islands, Australia, New Zealand,
the Far East and South America. Celebrity Solstice
has stunning itineraries to the South Pacific Islands
where time travel across the International Dateline,
Fiji, Tahiti and French Polynesia are key features. While
country club style cruising on board Oceania Insignia
will take you from Shanghai to Bali, Sydney, Hawaii
and crossing the Pacific Ocean to LA. Finally our
unbeatable Star Princess circumnavigation voyages
around South America offer the perfect break over
Christmas and New Year.
The Jetline Cruise Team.
2
SEE US ON
SKY TV CHANNELS
676 AND 677
BETWEEN 10am-11.30am
AND 7pm-9pm
Launching mid March